Title
Neighborhood Leadership Program Graduate Helps Start Youth Group
Body
Christopher Melendez helps make his community a better place by being authentic.
Melendez, a graduate of the Neighborhood Leadership Program at the Amherst H. Wilder Foundation, co-founded a youth group two years ago that provides a safe space for youth to speak their minds, engage in the community, and even find part-time jobs.
Each week, between 15 and 20 youth – mostly young men of color, though any youth are welcome – come to the Sun Ray Library in Saint Paul for the Young Mentors Group. The group has about 40 total members, and Melendez and co-founder Timothy Turner were named to Saint Paul's 2013 Neighborhood Honor Roll for their work. 
Members of the youth group describe Melendez as someone who's positive, who smiles often and who makes sure members have transportation. "He's got your back," one member said during a recent meeting.
The secret? "Just being real," Melendez says. "Youth are able to tell who and what information is real."
An Example of Community Leaders Who are Often Unrecognized
Melendez was inspired to start the group after he voiced concerns about the neighborhood recreational center near his East Saint Paul home. During summers, teens at the rec center were so disruptive that Melendez felt uncomfortable taking his two daughters to the adjacent park. The rec center is now run by a private organization.
He spoke to staff and council members at the District 1 Community Council, the neighborhood organization for his area, and later joined the council. Executive Director Betsy Leach suggested that Melendez apply for Wilder's Neighborhood Leadership Program (NLP). He went through NLP in 2012-13.
Melendez, who is now a staff member of the District Council, is an example of leaders who exist throughout our community but often are unrecognized. "He wasn't a positional leader; he wasn't connected with an organization," says Damon Shoholm, who led NLP at the time. "He just saw something he wanted to change and set about to change it."
Neighborhood Leadership Program Helps Develop Skills for Action
NLP helps community leaders and potential leaders like Melendez to develop leadership skills and promote effective action. Participants take part in twice-monthly sessions over six months. They engage with other leaders, explore other opportunities for involvement in their neighborhoods and communities, and develop the skills they need to take action.
Melendez said NLP was life changing. "That was the first time I was ever exposed to self-reflection," he says. "It was pretty powerful."
The program taught Melendez how he could be powerful in community organizing and gave him practical skills for community organizing. He also developed a network of like-minded but diverse community leaders throughout Saint Paul.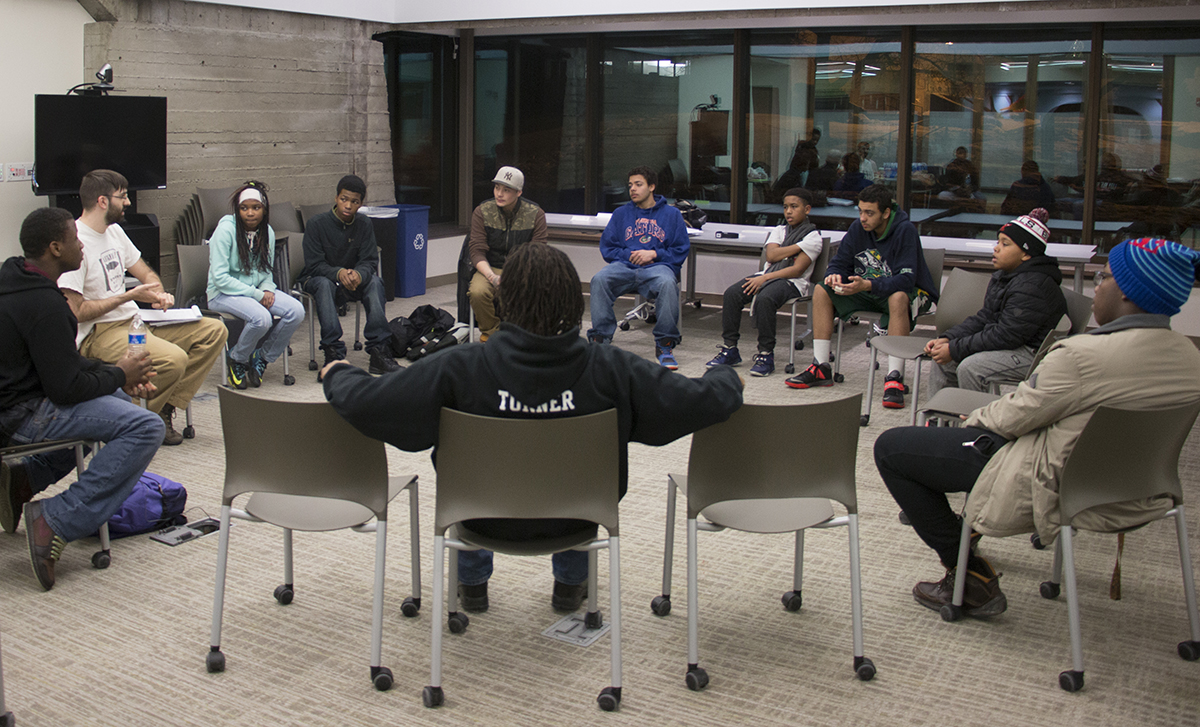 Between 15 and 20 youth come to Sun Ray Library in St. Paul each week for the Young Mentors Group. 
Creating Space for Real Conversations with Youth
Melendez began working to set up a youth group before he even graduated from NLP. Turner, also a member of the District Council, joined him to create the group, now called Young Mentors Group. Both are volunteers.
"We provide open space for youth to have conversations about what they're experiencing," Melendez says.
Most are children of color, Melendez says, and are well aware of racial issues. Many in the group took part in a recent Freedom School, a curriculum by the American Friends Service Committee that teaches youth to organize against institutional and structural racism. Melendez assists with the Freedom School.
Group members also do service learning. They served lunch and quizzed 150 community members on what makes a good community. They helped seek community input on transit issues. They cleaned the parking lot of a nearby Culver's restaurant, which now provides them with a free meal each month. Two members of the group now work part-time at the restaurant, Melendez said.
The goal is to bring youth to the table in community issues. "They're the ones who are going to be the change makers," Melendez says.
Sections
"That was the first time I was ever exposed to self-reflection. It was pretty powerful."
Christopher Melendez, Neighborhood Leadership Program Graduate