Volunteer
Share your time and talent to make a difference in our community
Join the 2,400+ Wilder volunteers who donated over 21,000 hours
within a year to support our mission
to improve lives today and for generations to come! 
Volunteering at Wilder Foundation is rewarding, impactful and flexible: volunteer on a one-time, part-time or regular basis as a team, with a buddy or solo. You have a chance to work with youth, older adults and families who are receiving or participating in services and programs, lend a hand at our community and fundraising events, or work directly with Wilder staff. Internship opportunities are sometimes available within our programs and services as well. Whatever you choose to do as a volunteer, you can make a tremendous impact on the people we serve in the greater Saint Paul area and beyond. 
Contact:
volunteer@wilder.org
Volunteer your skills by completing this short form.
READ COURAGEOUS STORIES OF WILDER VOLUNTEERS AND PARTICIPANTS
Volunteers Support the Mission and Give Back
"I really enjoy it and have worked with the homeless study, Ordinary Magic and backpack supply drive," Mary's husband Mark says. Mary, in turn, has expanded her role at Wilder to include contributing as a volunteer in two homeless studies, two Ordinary Magic fundraising events, the backpack school supplies campaign, and the Wilder Community Center for Aging.
One-Day Volunteer Opportunity Turns into Ten-Year Relationship with Wilder
Stable, Supportive Housing for Youth
Meals on Wheels Volunteers Impact Community
Start Volunteering at Wilder Now
Wilder's volunteer opportunities can also be found on VolunteerMatch.org. Once you create an account on VolunteerMatch, you will have access to volunteering positions at Wilder as well as around the community.
Volunteer with Your Skills & Experience
Skill-based or pro-bono volunteers also contribute their experience to a variety of projects at Wilder Foundation. 
Examples of skills Wilder volunteers have offered over the years:
Creative or Technical Writing

Data Entry or Database Management

Project Management

Event or Strategic Planning

Program Evaluation

Bilingual/Multilingual Skills

Volunteer Outreach

Creative Arts (Painting, Drawing, Sketching)

Music (Guitar, Piano, Singing)
Not sure which volunteer opportunity is right for you? Tell us a little about yourself in this short form and we will contact you to learn about your volunteering interests and skills.
Intern at the Wilder Foundation
We work closely with schools, universities and colleges to fulfill any student intern needs. If you are interested in paid or unpaid internships, speak to your student advisor or contact Career Services in your school.
As a Wilder volunteer, you help create a lasting, positive change for the families and communities we serve in Saint Paul and beyond. Thank You!
Report Your Volunteer Hours
Thank you for sharing your time with us! Please report your volunteer hours by signing into Volgistics. 
Share your courageous volunteer story
Want to tell others about your volunteering experience at Wilder?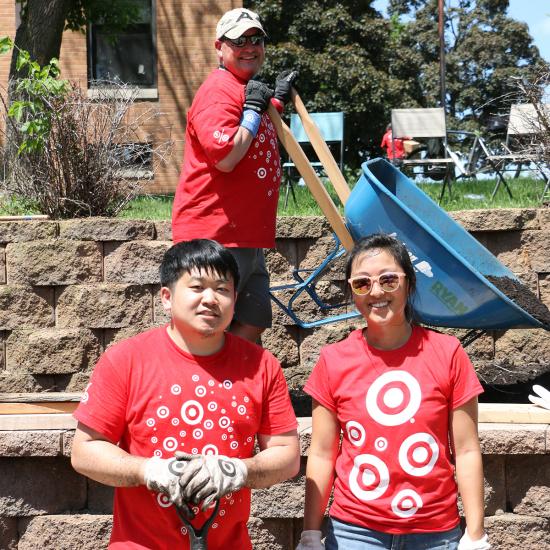 Volunteer Team Transforms the Center for Social Healing for Southeast Asian Members
Wilder's Center for Social Healing offers a warm, welcoming environment created through years of shared meals and smiles. Thanks to more than 100 volunteers who work at Target, the transformed therapeutic community center for members of ...More about this story »