Title
Volunteer
Share your time and talent to make a difference in our community
Body
Join the 150+ volunteers and interns who contributed nearly 11,900 hours last year to support Wilder's mission to improve lives today and for generations to come! 
Volunteering at Wilder is rewarding, impactful and flexible: choose to volunteer in-person or online and choose to volunteer on a one-time, part-time or regular basis depending on the opportunities. You have a chance to work with children, older adults and families who are receiving or participating in services and programs, lend a hand at our community and fundraising events, or work directly with Wilder staff. Internship opportunities are sometimes available within our programs and services as well.
Whatever you choose to do as a volunteer, help create a lasting, positive change for the families and communities we serve in Saint Paul and beyond.
Current Wilder volunteers can reach out to their supervisors or email volunteer@wilder.org for more information. 
Contact: volunteer@wilder.org
Section
Want to double your impact or can't volunteer at this time?
Support us with a donation!
Read the latest Courageous Stories of Volunteering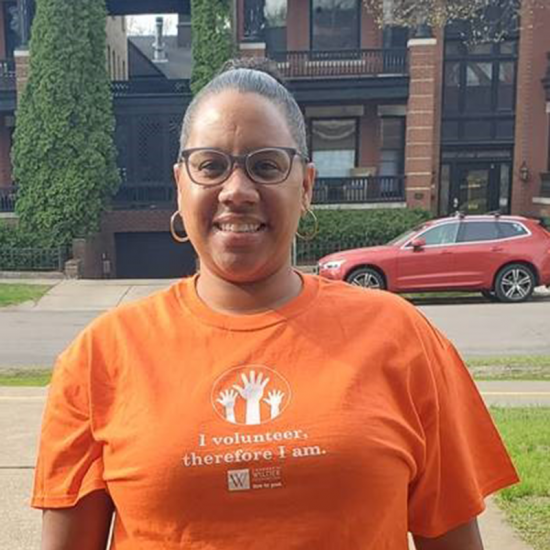 Meals on Wheels helps Wilder volunteer Tracey Cross stay involved during the pandemic
For many, the COVID-19 pandemic has meant stepping back to stay safe. For Tracey Cross, Wilder's Meals on Wheels program provided the perfect opportunity to step out—and step up. "It gave me purpose," Tracey says, calling volunteeri...More about this story »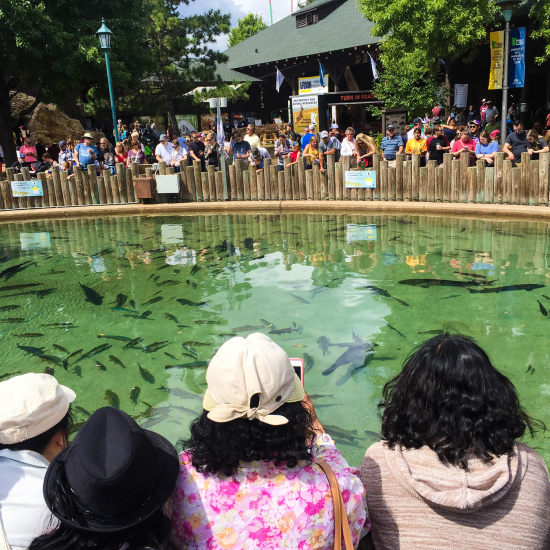 Cambodian Americans at Wilder Center for Social Healing Remind Volunteer Kai Miller that Small Contributions Make a Difference
Upon returning to the U.S. after five years of living and working in Cambodia, I found that readjusting to life in the US was difficult. I missed Cambodia, which was—and still is—a home for me. A family friend who worked at Wilder told m...More about this story »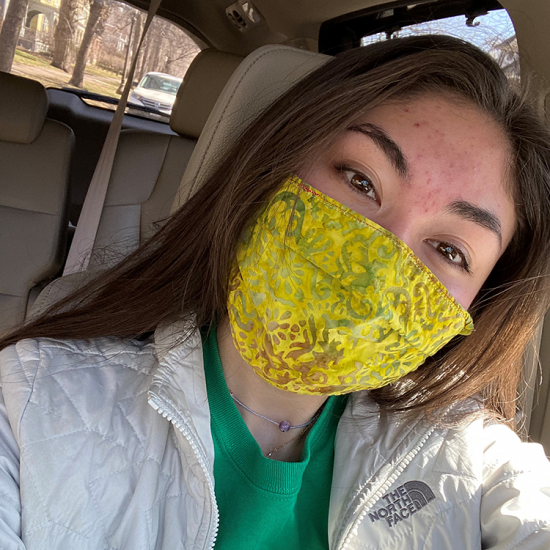 High school student Aine puts new driver's license to work volunteering for Meals on Wheels
Aine, a high school senior in Saint Paul, knew she wanted to start volunteering as soon as she got her got her driver's license at age 17 1/2. During the height of the COVID-19 pandemic, Aine put her newly minted license to work deliveri...More about this story »
Start Volunteering at Wilder Now
Wilder's volunteer opportunities can also be found on VolunteerMatch.org. Once you create an account on VolunteerMatch, you will have access to volunteering positions at Wilder as well as around the community.
Volunteer with Your Skills & Experience
Volunteers also contribute their skills and experience to a variety of projects at Wilder. Complete our online form below or send an email to volunteer@wilder.org. We will contact you to learn about your volunteering interests and the skills you want to contribute to support our mission.
Examples of skills Wilder volunteers have offered over the years:
Creative or Technical Writing

Data Entry or Database Management

Project Management

Event or Strategic Planning

Program Evaluation

Bilingual/Multilingual Skills

Volunteer Outreach

Creative Arts (Painting, Drawing, Sketching)

Music (Guitar, Piano, Singing)
Intern at the Wilder Foundation
Wilder works closely with schools, universities and colleges to fulfill student intern needs. If we have internships open for recruitment, we will list those below. For specific practicum or field experience needs, please speak to your student advisor or contact Career Services in your school.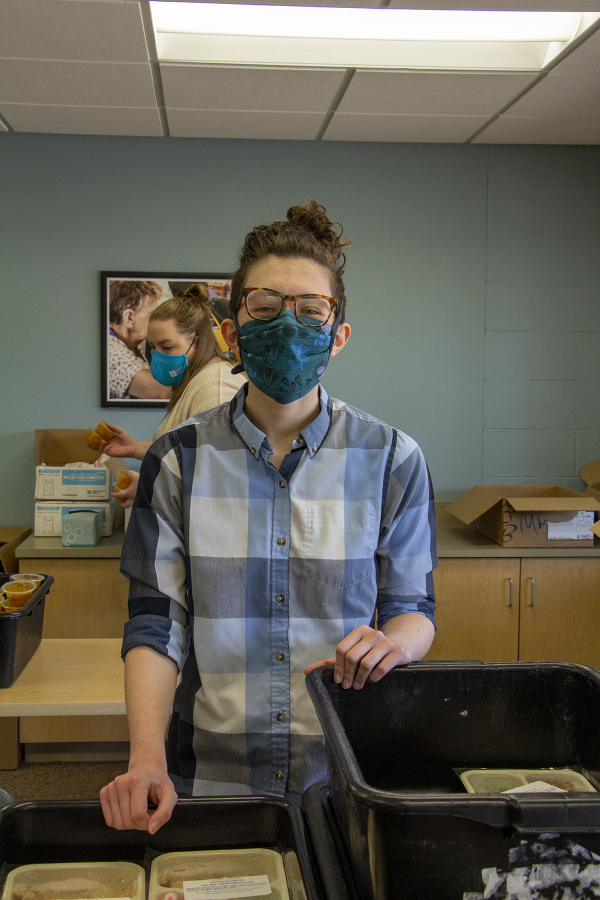 Current Internship Opportunity: Community Engagement Intern | Volunteer Services
Internship Length: January 2022 - May 2022, 10-15 hours per week.
Work site: Wilder Center (451 Lexington Parkway North, St. Paul, MN 55104) or remote after initial training period.
Rate of compensation: None; unpaid volunteer position
How to apply: Please send your cover letter and resume to Volunteer Services at volunteers@wilder.org to apply.
As a Wilder volunteer, you help create a lasting, positive change for the families and communities we serve in Saint Paul and beyond. Thank You!
Report Your Volunteer Hours
Thank you for sharing your time with us! Please report your volunteer hours by signing into Volgistics. 
Share your courageous volunteer story
Want to tell others about your volunteering experience at Wilder?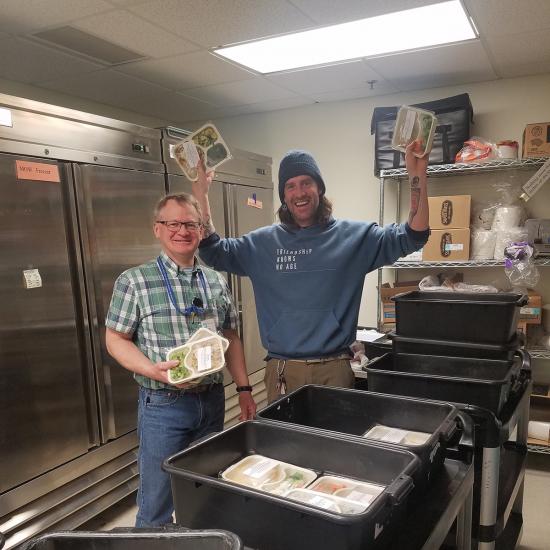 Meals on Wheels Rolls with COVID-19 Changes to Continue Serving Older Adults and Adults with Disabilities in Saint Paul
Jack Munsell signed up in February to pack meals for other volunteers to deliver to Wilder Meals on Wheels customers in Saint Paul. Then the novel coronavirus upended life as Minnesotans know it.
Wilder Meals on Wheels made ra...More about this story »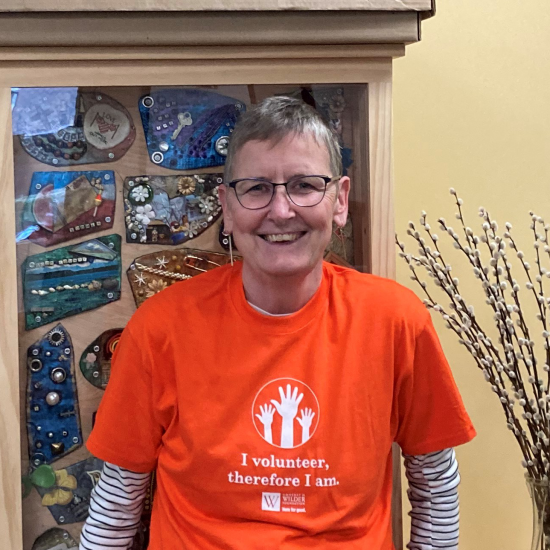 Wilder Volunteer Loves Giving Caregivers a Break
Longtime Wilder volunteer Johanna (Jo) Stammeier-Toole has given over 1,000 hours of her time to the Wilder Community Center for Aging. Jo first started volunteering in the Adult Day Health program. When the program closed in summer 2020...More about this story »