Title
Healthy Aging & Caregiving Services
Supporting the health and independence of adults to age and care in the community
Body
The number of Minnesotans older than 65 is expected to nearly double between 2010 and 2030. As this shift happens, Wilder is committed to improving the lives of individuals who #AgeinPlace and live where they feel most comfortable, whether in their own home or connected to their community. Seniors, older adults, adults with mental, physical and chronic health conditions and their caregivers have access to a variety of healthy aging and caregiving services, support and resources. Our goal is to support the health and independence of adults to age and care in community.
Widgets
Location and Hours—We've Moved!
Please find Wilder Healthy Aging and Caregiving Services at our new location:
Join Minnesota's Walk with Ease Program with Wilder
Walk with Ease is a program for people with joint pain or anyone who wants to improve their health.
You will learn how to start walking safely and stick with it. We'll be bringing a group of up to 15 people together to meet 3 times a week for 6 weeks.
Dates: August 23, 2021 - October 1, 2021 (except Labor Day on Monday, September 6)
Days: Mondays, Wednesdays, Fridays
Times: 11:00 a.m. - 12 p.m.
Location: 941 Lafond Ave., Saint Paul, MN 55104 (near Frogtown Farm)
Classes include a brief education discussion, warm-up and cool-down exercises, and a 10−35 minute walk at your own pace around the beautiful Frogtown Farm area. If you use a device like a cane or a walker to help you get around, you can still participate in the program. Participants will also receive a free gift, like a step tracker or an activity journal.
How can it help me?
Research studies on Walk with Ease have found it to be safe and effective. It can help you:
Reduce arthritis pain and stiffness.
Feel less tired.
Increase your stamina, strength, and balance.
Be more active and independent.
Feel more confident that you can control your joint pain and arthritis.
Let's Walk Minnesota is a campaign sponsored by the Minnesota Department of Health (MDH) as funded by the Centers for Disease Control and Prevention (CDC) through its funding to national organizations and state programs to ease pain and improve quality of life of adults with joint pain, stiffness, or a diagnosis of arthritis through walking or increasing physical activity.
Now Offering Caregivers Weekday Respite
Are you caregiving for someone living with memory loss or Parkinson's Disease? Make time for yourself and sign up for Wilder Connect! While you get a 4-hour break for respite, your care partner enjoys the company of a small group, engaging activities, meals and care from staff and volunteers. Safety precautions such as temperature and wellness checks are in place for COVID-19. 
We are a Struthers Parkinson's Care Network member. Our staff receive ongoing training, education, and care guidelines for people with Parkinson's Disease and their families. 
Request Information About Our Aging & Caregiving Services
Wilder's Healthy Aging & Caregiving Services, located in Saint Paul, serves as a hub supports and resources for families, caregivers, employers, counties, organizations and communities in Saint Paul, Minneapolis and Minnesota. Caregivers caring for loved ones can also access resources, support groups and classes at the Center. 
Call 651-280-2500 or email healthyaging@wilder.org to find out more and setup a free tour.
You can also get more information by telling us your preferences and we will contact you. Click "Request More Info" below to get started.
Volunteer Opportunities at the Center and in Saint Paul
Looking to make an impact in Saint Paul? There are always fun and engaging volunteer opportunities at the Wilder Community Center for Aging. We invite you to learn more about becoming a Wilder volunteer!
Events for Older Adults & Caregivers
Support groups and gatherings hosted by Wilder Healthy Aging & Caregiving Support Team
Wilder Healthy Aging and Caregiving offers support groups and other events for caregivers, wellness classes for people living with chronic conditions, and other events and opportunities for older adults and caregivers. Call (651) 280-CARE (2273) for more information or to RSVP for a group or gathering.
Courageous Stories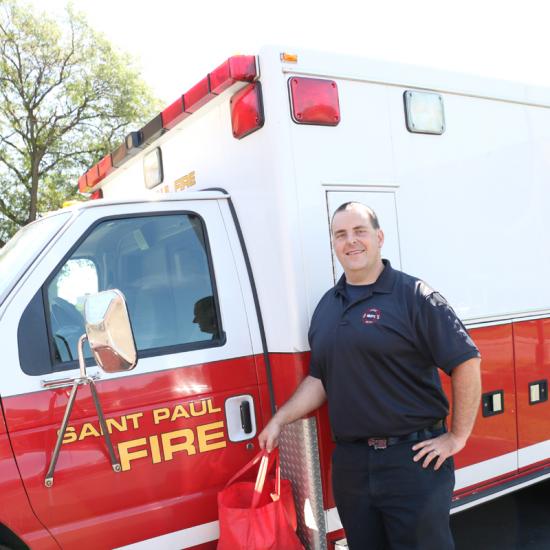 Double Delivery: Saint Paul Fire Department Educator Offers Lunch and Safety through Meals on Wheels
Jeremy Berger is trying to lower the risk of fire with each delivery he makes through Meals on Wheels. As the fire and life safety educator for the Saint Paul Fire Department, Jeremy delivers Meals on Wheels to seniors and adults with di...More about this story »