Title
In Recognition of Rudy Rousseau
Body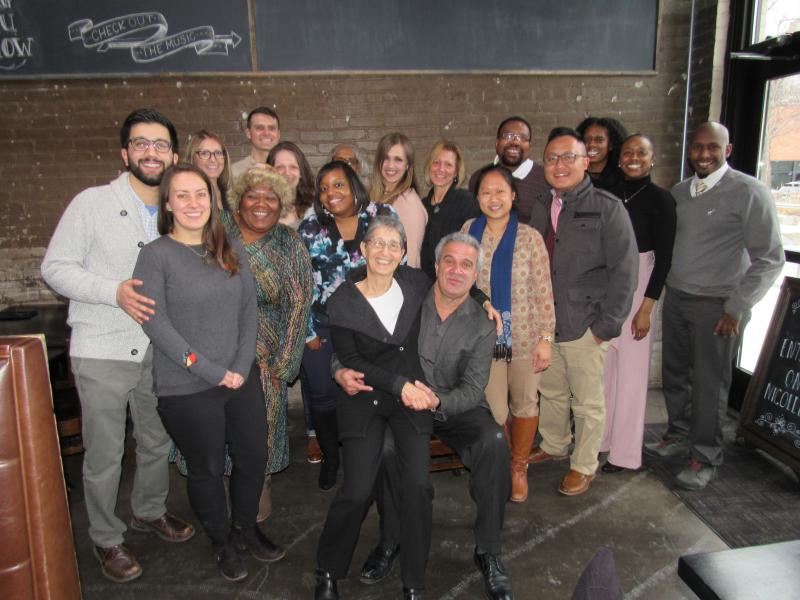 Often when we launch a new year, we say goodbye to important aspects of the year prior. It is rare that we begin a new year bidding farewell to someone who has been a pivotal community influence for over four decades.  January 2023 marks the first month of retirement for Rudy Rousseau - the first month in over 42 years that Wilder will no longer employ this leader, promoter, uplifter, and feeder of people.
For those who have not (yet) had the true pleasure of knowing and being known by Rudy – he dedicated his professional career as a Licensed Psychologist and his whole heart to promoting the wellbeing of babies, children, youth, parents, and whole families. Not secondarily, he dedicated himself to inspiring the promise and passion of mostly Black and Brown emerging mental health providers toward their own wellness and success. Through his mentorship, countless providers will impact the wellness of many hundreds more children and families for generations to come.
Always a proponent of collective action and unity, Rudy has never accepted tribute dedicated solely to him. His core value and life's work was about bringing in and celebrating the brilliance, energy, possibilities, and contributions of truly ALL of those around him.  In recent musings about his departure, he commented on 'honorable closings' which support experiencing a transition with a feeling of wholeness.  So to you Rudy, we say – for Wilder to move through this transition with a feeling of wholeness, it is important and meaningful for us to recognize and acknowledge your impact on so many people and indeed our entire organization.  Rudy, your legacy will live on in the people you have lifted up over the past 42+ years.
Rudy first came to Wilder in 1980 as a psychologist and the first Black clinician hired to work in the mental health clinic. A decade later, he helped to launch a new and exciting concept – bringing mental health services and supports to children in their natural environment – the schools.  At that time in the late 80's to early 90's, Saint Paul Public Schools recognized that there was a disproportionately high number of Black boys who were 'stuck' in special education for behaviors likely related to mental health, trauma, and other concerns.  In 1991, Rudy took on the task of designing a 'way out' – a support system so that Black kids and families could achieve their hopes and dreams.
Out of Rudy's heart and brain, fueled by community, families, and Wilder, came Wilder's first culturally designed and school-based mental health program for Black boys. Over the years, Rudy worked alongside his team of school counselors and many others to evolve and expand Wilder's school-based mental health services.  Rudy and these early passion-filled and possibility-seeing leaders paved the way for Wilder's current school-based programs that now support Hmong, Karen, Latinx, African American, and East African students and families.  These programs are modeled after what we knew was successful in our early work designed specifically for Black boys, but they are also grounded in each community's strengths and identity.
In addition, Rudy's leadership has helped transform Wilder's approach, our relationships, and our overall engagement in the space of school-based mental health services and has helped to influence the rest of the state to grow and sustain these needed services. Anywhere school-based mental health is offered, Rudy's fingerprint is there in some way.
Rudy has led and walked arm-in-arm with countless others to design and drive a truer and more positive narrative about the value and possibility of students who need mental health support and their families who love them.  He has created space for discourse, for cultural change, for pride, and for growth. In his 42.5 years at Wilder and in this community, Rudy has touched tens of thousands of lives of young people and their families, many of whom stay connected to him through careers, college, graduate school, and becoming parents.  He has inspired hundreds of clinicians and leaders who continue the mission of improving kids' lives in a multitude of ways across Saint Paul, Minnesota, and beyond.
For nearly a decade, Rudy's tagline has been "Til ALL the kids are well."  In Rudy's honor and to promote an 'honorable closing' and a transition in which we feel wholeness, may we all embrace this sentiment - to want just as much for every single child as we would want for our own child, or the special children in our lives. For one child is too much to lose, and one is enough to celebrate.
Written by Pahoua Yang, Vice President, Community Mental Health and Wellness and Michelle Morehouse, Vice President of Advancement, on behalf of the entire Wilder community.
Widgets
Want to share a message with Rudy? Email us at info@wilder.org and we'll include it in an e-card to him!
Make a gift in honor of Rudy's countless contributions to families in the community at http://wilder.org/donate.