Title
Living Roots: How ThayGeMoo is supporting the mental health of Karen students in Saint Paul Public Schools
Body
During summer break, more than 25 families came together at Wilder Center to celebrate ThayGeMoo, a new culturally centered school-based mental health service for students from the Karen ethnic community. Karen community leaders spoke about the need for mental health services for students and the resilience of the Karen community. Family members from across Wilder's school-based mental health programs placed paper leaves on a tree created to represent ThayGeMoo.
With support from the team in Hlub Zoo, a Wilder school-based mental health program for Hmong students and their families, ThayGeMoo offers services for Karen students at Washington Technology Magnet School in Saint Paul, and Wilder therapists support Karen students in other Saint Paul schools as well. ThayGeMoo provides mentorship, addresses acculturation issues, fosters positive cultural and individual identity, and nurtures connectedness between youth, their family, school, and community.
Wilder school-based mental health therapists April Moo, Mai Lor Moua and Mary Her recently sat down to talk about how culturally centered mental health services can support students from the Karen community.
What does the name ThayGeMoo mean?
April: Living roots. In the forest, there is this root that even though it doesn't get soil, sun or water, it never dies. But if someone picks it up and puts it in a vase with water, it will start to grow. It represents our students. They have a lot of strength and resilience within themselves, and all they need is support from other people, parents, teachers, staff and therapy, and they will grow.
Why do we need ThayGeMoo to provide culturally relevant, school-based mental health services in schools?
April: Right now there are more than 20,000 Karen refugees in Minnesota, and there are more coming. We started to see more students struggling with transitioning to life in America. There's also a cultural piece where many parents are holding on to their traditional values, and kids are trying to hold on to their traditional values and then there are also very new values. At times when the parent and the youth have different values and vision for themselves, it can create tension, misunderstanding, and affect the youth's mental health well-being.
Mai Lor: We started getting referrals from other schools and requests for Karen therapists who could work with families. That tells us that this community is not getting the service that they need, so we asked how can we as Wilder, who have been doing this culturally responsive work for many years, how can we help? This community needs support now, so we worked really hard to get this launched.
A strength of Wilder's school-based mental health programs is having therapists who understand and often are from the cultural communities of the students and families. How did you start mental health services for Karen students and families without a Karen therapist?
Mary: Although we have many staff of Hmong and Southeast Asian descent providing services through Hlub Zoo, we did not have any Karen therapists. We were able to connect with Lwe Paw Kacher, a Karen cultural broker at M Health Fairview, so that staff in any of our school-based mental health programs can access Karen cultural support. Lwe Paw connects with mental health staff, provides cultural education and is a liaison for families.
We were fortunate to hire April Moo, a therapist from the Karen community and a former intern at Wilder Community Mental Health and Wellness. With Lwe Paw and April on our team, we knew this was the time to launch ThayGeMoo.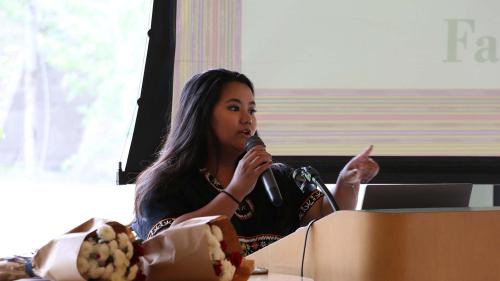 How do culturally specific school-based mental health services meet the needs of students and families from the Karen community?
Mai Lor: Families may not recognize when kids experience mental health challenges because there's no language in Karen to describe what they are experiencing. Many families are unfamiliar with systems, and so connecting with ThayGeMoo is often an introduction to mental health services in the United States.
April is able to connect with students, teachers and parents and explain how we think about mental health challenges and explain that mental health can be managed so that you can succeed in whatever you choose. We often are a point of contact for families to get other services and help with referrals for housing, financial support and more
In one-on-one sessions, clients can talk about being bicultural, growing up in an English-speaking country, navigating two different worlds and challenges with parents.
Why does it matter that a therapist is from the Karen community?
Mary: With any cultural group, there are always nuances that therapists from that community can pick up on, and there are behaviors and cultural norms that may occur within a therapy session that others may not understand. We want to make sure that we are understanding our families so that they feel heard and safe to share their stories. 
One student had worked with therapists from outside the Karen community and found it hard to open up and express herself. She felt like the cultural pieces were hard for other therapists to understand. The client has been working with a Karen therapist from Wilder for almost a year, and she is expressive and feels able to trust her therapist. They've even done some family sessions.
What is your dream for the future of ThayGeMoo?
Mary: We hope there will be more Karen therapists active in Saint Paul Public Schools so that we can serve more Karen students in the community. We know that, similar to the Hmong community, there is stigma around mental health and hesitation to receive services. The need is there and our hope is to provide more education about mental health in the Karen community.