Title
Thank You 2022 Supporters
Body
Generous supporters like you help make our mission possible of improving lives today and for generations to come. From all of us at Wilder, thank you!
● 5+ years of giving | ■ 10+ years of giving | ♦ employee | * deceased
Widgets
Thank You Individuals & Families for Contributing to Wilder's Annual Fund
$50,000+
Donald and Patricia Garofalo■
John* and Catherine* Hill
Marvel L. Norton*
$25,000+
Pat and Christee Donovan●
Nancy and Thomas Nelson
$15,000+
Anonymous■
Eric Nicholson and Anna Waters●
$10,000+
Anonymous●
Armando and Angela Camacho♦
Nona Kennedy Carlson
Sherman Devitt■
George and Diane Power■
Valerie Johnson and Kristine Szczech
Mark and Jodie Zesbaugh
$5,000+
Anonymous●
Julie Brunner and Dale Ulrich●
Chris Colantti and Conradine W. Sanborn
Audrey E. Copeland●
Terry and Cheryl Crowson● 
Kevin and Catherine Earley●
Tom and Kim Holman●
Elizabeth M. Kiernat■
Bob and Ruth Link
Michelle M. Morehouse■♦
Richard and Nancy Nicholson
Thomas and Lois Sando■
William and Susan Sands
Jan Shimanski and Robert Mills
Robin Torgerson■
$2,500+
Christine and Lawrence Bell
Craig and Kathy Binger
Ron Bongard●
Gary and Paula Christensen
Alex and Judy Cirillo●
Marybeth Dorn
Joe and Lois West Duffy●
Ralph and Rachel Garding
John and Jill Gauger
Robyn L. Hansen■
Rochelle L. Johnson
Judy and Edward Kishel●
Joseph and Linda Lane
Margaret A. Lidstad●
Paul and Tara Mattessich●♦
David and Sherla Mayer●
Samuel Nolley and Maureen O'Brien
Joanie Putz
Mariana Quiroga and Sam Schinazi
Barbara and Robert Woodruff
Ann L. Wynia■
Pahoua Yang and James Song●♦
David and Janet Zens
Annie Zipfel
$1,000+
Anonymous (4)
Kathy Allen
Dana B. Badgerow and Kathy F. Barclay●
Robert Beck
Brent Bertsch
Tisha Bolger●
Andy and Lisa Brown■♦
Mike and Kathy Buendgen
Brock Christianson
Page Knudsen Cowles and Jay Cowles●
Sheldon Damberg●
Sandra and Lynn Davis
Paula S. Engstrom●
Nona and Vanwright Ferguson●♦
Michael H. Foote●
Anne Grosse
Joan and Robert Grzywinski■
Alex Haecker
May and Chengfu Hang
MayKao Y. Hang and Lao Lu Hang■
Fred and Archie Harris●
Jennie and John Hawkins■♦
Craig Helmstetter■
Dr. Jennifer Hines■
Junice Hochbrunn
Pahoua Yang Hoffman
Antonio Jhocson and Cara Walz
Marlene E. Johnson■
Melanie Johnson
Judith Kenney
Tom and Mary Kingston
Kirsten and Timothy Klevan
Tom and Leslie Kottke●
Michael Larson
Melanie K. Lien
Allison and Alex Liuzzi■♦
Tim and Diane Madden
Malcolm W. McDonald●*
Tammy and Calvin McIntyre●♦
Heather and Greg McMoore■♦
Bao Moua♦
Shane Noecker
Carmen O'Halloran
Amit Patel
Tom and Sally Patterson●
John and Corine Petraborg●
Jim Pfau and Denise Kania■
Sue Piva and Laurie Keate■
Paige and Anthony Priolo●♦
Jerome J. Quinn●
Christopher and Jennifer Reedy
Carleen Rhodes and Byron Gilman
Chentelle Roberts
Barbara Roy●
Jim Rustad■
Steve Sabes and Maggie O'Gara
John and Ruth Scheef
Kathryn L. Schleich●
Stephen and Katie Schmidt●
John and Ellen Schreier●
Erica O. Schumacher and Andrew J. Collins
David and Cecilia Simpson●
Nancy Speer and Jim Shaver●
Gunter Stein●
Dan and Robin Stoltz
Michelle and Michael Taylor
Jennifer M. Thao and Gregg J. Musiker●♦
Jon and Lea Theobald●
Missy Thompson and Gar Hargens
Karen M. Ulstad■♦
Chameng Vang
David M. and Mary Ann Barrows Wark■
Becky and Gerald Woelfel●
Robert H. Zabel■
Steven and Susan Zimmerman
$500+
Anonymous (7)
Grant Abbott and Elaine Tarone
Andrew and Jennifer Adams●
Marnie T. Andrews■
Nina Archabal●
Jennifer Baker
Geoff J. Bartsh
Laura Brown■♦
Heidi Christianson
Connie Clay♦
Ellen Cleary●♦
Andrea Domaskin and Quang Trieu●♦
Duchesne Drew
Drs. Phillip and Sandra Edwardson■
John Engstrom and Joanna Kuehn
Michael Esch
Laura Fingerson
Donald Flower♦
Jennifer J. Garber
Michelle Decker Gerrard■♦
Joe Gothard
Edith Gozali-Lee♦
Dr. Bret C. Haake
Kenneth Higgins
Louis F. Hill and Kathrine E. Hill●
Lauri Hopkins
Tom and Jean Houghton
Amy E. Huerta
Gretchen M. Ibele●
Kristi Jackson
Benjamin Jewett●♦
Rod and Lil Johnson●
Nancy L. Kachel■
Justin Kappel
Maureen Kenney■
William and Jeanne Kosfeld●
Joanna Kuehn
Joshua Low
Ann Marlow
Julie Megow♦
Terry and Joan Morehouse●
Emmanuel T. Munson-Regala
Nancy Myers■
Sandra Oldaker
Greg and Phyllis Owen■♦
Bonnie B. Padilla
Anne D. Pick■
Bill and Barbara Read
Anne and Jeff Rodenberg♦
Stephen and Amy Rothstein●♦
David Schleich
Janet A. Schweigert■♦
Boje Siebels and Joan M. Lindquist
Jerome O. Slawik, Jr.
Sylvia Strobel and Walter Lehmann
Dan Swanson■♦
Charles C. Torrey■
Jackie Turner
Ana Van de Hinz
LaVonne Wieland♦
Matt and Christine Winston
Maggie Wirth-Johnson and Jim Johnson●
Hua Xiong-Her●♦
$1-$500
Anonymous (28)
Andriana Abariotes
Lisa Abrazo
Paul and Margaret Clouthier Acito
Sharon and Michael Ahern
Tabitha Alberghetti
Ada Alden
Richard and Paula Almer■
Jackie Aman♦
Patricia Ameden♦
Earl and Roberta Anderson
Margot and Paul Andress
Cindy K. Angerhofer
Caroline and William Au-Yeung♦
Lindsay Bacher●♦
Lisa Bacon
Janayah Bagurusi♦
Carrie Bain
Cedrick F. Baker
Tim and Kathy Ball
Leah Barr
Amy Barthel■♦
Matt Barton
Kristine Baumgardne
Ralph Baumgartner
Beth Beckers
Spencer Bemel
Henry Bendixen●
Jeffery Bennett
Lynda V. Bennett
Ellen L. Biales
Nadeen Bishop
Rae Bly
Georgia Boehlke
Lee and Barbara Boerbon
Donna Boller
Joanne Borocki*
Alexandra Boyer
Mary and Richard Brainerd
Erik J. Brandt
John and Emily Brenegen
Alison Brisbin
Tracy Brunnette
Arlene Buchman
Lisa Buck
David Burke
Desiree Clater
Diego Camacho
Peter Cameron
Paul Carlson
Anne Carroll and Bruno Franck
Mary Casey
Sarah Cassell
Margaret Castle●
Wendy Caucutt
Michelle Chalmers
Richard A. Chase and Nancy Devitt
Rose Chu
Nancy Cincotta●
Josephine Cizek
Sam Clark
Lee Clausen
Andrew and Sherene Cleary
Dan and Kate Cole●
Amelia Colwell♦
Martha Colwell
Mary Comford
Jon Commers
Riley and Andrea Conway
Matt and Kim Cooke
Lois C. Coon●
Roberta Cordano and Mary S. Baremore
Andrea Corich
Andrea Coronado
Erin D. Coryell
Wendy Cowan●
Barbara Cox
Steve Cramer
Joanne Curry
Kathy Dahlen■♦
Greg and Janice Dames●
John and Cheryl Davenport
Barbara DeGroy
Matthew C. Dehn●
Jane Delage
Brenda Delaney♦
Ronald K. Dexter
Janice Dickinson
Kristin Dillon♦
Loralee and Gene DiLorenzo
James Dockman and Judy Lear■
Mary and Jim* Domaskin
Kathleen and Tim Donlin
Mary Ann Dovolos
Mary Jo Drews
Nancy and Jerry Driessen●
Rebecca Driscoll●
Danielle Duback
Daniel J. DuHamel
Roger Gross and Mary Dunnavan
Gayle Dustrud●
Roger Eckblom
Susan and John Egan●
Mark Egge
Jeff and Elizabeth Eggert
Louise Eidsmoe●
Mary Jo Ellis
Erin Eneboe
Deborah Engelhard and Patricia Mingee
Mike Engelhardt
Catherine D. Enslin●
Rosemary and Patrick Enslin
Joseph and Susan Eschenbacher
Linnea G. Fahnestock
Megan L. Faricy*
Thomas Farnham
Thomas Farnham, II■
Janet Favorite
Charles Fazio and Sallie Fazio Quammen●
Rebecca Fee●
Janna Fennell●
Marcus Fields●
Rachel Fields●♦
Mignon Finn
Kathryn DeSpiegelaere Fischer●
Patrick FitzPatrick
Bonnie Jean Flom
Don and Christine Follett
Holly Forsberg & Family■♦
Bill Foussard■
Mildred Friauf*
Mary Friedmann
Stephanie and Arlo Frost
Vanessa Gadberry
Katherine Gallup-Strom●
Willie Garrett
Catherine and Robert Gasiorowicz
Susan Gauthier
Judith Gavin
Sarah Gehrig
Mindy Geisser
Jenny Geris♦
Diana Geseking
Erin Ghere
Savanna Givens
Jean Godfrey
Paul W. Godfrey
Romisha Gray
Nikole Griffin
Robin Grimes
Timothy Grimes
Debra and Scott Grosse
Ann and Mark Gruenhagen
Tony and Cathy Grundhauser
Laura Gusa
Lari Hacker♦
Patricia Haedtke
Ann and Ed Hagberg
Tonya and Phillip Hampton
Madeleine L. Hansen-Connell♦
Dyke Hanson
Gar Hargens
Catherine Hawkins
Joni Heinsch
Morgan Helme
Kristin Hennig
Dolly Her♦
Sandra Her●♦
Stephen Himmerich
Amy and John Hink
Stephanie Hinrichs
Sheryl Holm
Sandra Holten-Athneil■
Leticia G. Hoppenrath♦
Dolores Houle and Michael Lambert
Yujung Hu and Samuel Imbo
Oliver Jackson
Deborah Jacobs
Maureen Jekot
Megan Jekot♦
Andrea and Mike Jewett
Peggy Johaningsmeir
Adrienne Johnson
Shotsy and Ward Johnson
Russell and Janice Johnson
Jane Johnston and Dan Pinkerton
Alissa Jones♦
Jacqueline D. Jones♦
Tina Jones
Julia Joseph-Di Caprio and Fernando Di Caprio
Anthony Joyce
Mary and Michael Joyce
Thomas Joyce
Virginia M. Juffer■
Steve Kallevang
Julia Kallsen
Muneer Karcher-Ramos and Fartun Abdi
Kurtis Karn
Paige Karno
Mary Keirstead and Edward Swain
Lebogang Kekana
Jerry Kern■
Andrew Kershner
Terry Kiel
Jeffrey Kiesel
Kevin Kirchner
Richard S. Kleber●
Evelyn Klein
Jennifer Klein
John and Carol Kline■
Clarence and Tiffany Knox
Jan Kolles
Joseph and Kathy Kovarik
Karyn Krahn
Meagan Krishnappan
Natalie Krodel
Kellie Kroll
Brad Kruse and Kimberly Faurot■
Patricia Kuderka
Ken Kuehn
Adora S. Land Tolefree●
Pat Landy*
Joseph Larson
Therese and Al Lavalle●
Jane and John Lebens■
Angela Lee
Debbie and Andrew Lee
Evelyn Lee
Mai Nyua Lee♦
Palli Lee♦
Cynthia L. Lehr and Stephen Brill■
Margo Leslie
Anne Li♦
Lanice and Varland Lincoln
Eric Lind
Heather Loch■♦
Anna Loth Gresser
Jean and Neil Lubke
Deb Luhrs
Mike Luke
Bunchung Ly♦
Kristina and John Madigan●
Tasslyn and Dan Magnusson●
Karen M. Marano
Jodene and David Marquis
Charles Marschall
Beth Marshall
Elaina Martinez
Gayla Marty
Tim Marx
Harold E. and Gaye Adams Massey
Katie Mattis Sarver
Michael J. and Oi C. Mattison●
Mary K. Mayer
Mary O'Brien McAdaragh
Betsy McBride
Eric McCabe
Rachel McCabe●
Jeanne and Matthew McCann
Llake McCorison
Kathryn and David McGraw-Schuchman♦
Anne McInerney
Linda McIntosh
Jeanne and Jeffrey McLean■
Shannon McLevish■♦
Dominic McQuerry●
Dennis and Debi Meissner
Merry Meltz
Jean Mendenhall
Bonnie and Richard Mereness
Kristi Metcalf
Mark Miazga
Elizabeth Michalak
Johnell and Joshua Miller
Larry and Sharon Miller
Patrick Mitchell
Karine and Paul Moe
Jennifer Moebius
Jesse Moen
Anthony Molaro
Jodie Monson
Dr. Charles P. Morgan and Deborah J. Morgan
Linda Moser
Gebremichael Mulunesh
Frank Mumford
Patti Nalipinski
Clyde D. Nelson■
Julie Nelson
Dixie Nelson
Caryn Neumann
Ellen Nikodym
David Nyberg
Connie Nyman
Carol O'Connell
Michelle OBrien
Sarah Ohle
Daniel and Molly O'Keefe
Anne Olson
Ellie Olson
Lisa Olson
Mark and Norma Olson
Sarah M. Olson
Shaun Olson
Kay Ostenson
Shannon O'Toole
Audrey Pallmeyer♦
Mary Jane and Bruce Pappas
Amy Parker
Judy Parr♦
Emma Pederson
Jenny Perona
Lucille Petermeier●
Ryan Petersen
Doug Franzen and Pat Peterson
Rachel Peterson
Terrence Peterson
Tami Petterson
Paul Picard
Jamila Pickett♦
Sharon D. Pitala
Cathy and Frederick Plessner
Stephen Pohl
Laura Poola
Kate Poole
Gina and Douglas Porter
Ted Pouliot●
Beth Pulczinski
Gloria Quest
Denise and Dan Quinlan
Peggy Radford
Dane Rasmussen
Ela Rausch and Jonathan Hansen
Maria and Aaron Redman
David Redmond
Christine Retkwa
Gregory Reynolds
Kati Rinehart
Molly Rinehart♦
Pamela and Thomas Rittenour-Droege
Hillary Robertson
Thaddeus and Meghan Rodda
Lisa Roe
Alan Rose
Laurel Rose
Steve and Kristen Rose
Jennifer Rosenbusch
Helen Rush●
Stephen and Ann Russell
Catherine Rye
Rebecca A. Sales♦
Martha Sanford
Dick Sarafolean
Andrea and Joseph Satter
Betsie Sawyer
Timothy Scallen and Catherine Scallen
Melissa Schauff
Phil and Susan Schenkenberg
David and Karen Schlaefer
Shawn Schuette■♦
Samuel Schultz
Anita Scott■
Jeff and Mary Scott
Matthew Sebold♦
Benjamin Segal
Kate Shanmugam♦
Bill Sharbono
Marina Shimelfarb
Candi Shreve♦
Katie Sibbet
Glen Simkunas
Paul A. Sinclair●
Deborah Sittko●
Maureen Skelly
Dorothy Skobba●
Sandi Smith
Susan Smith
Doug Smoyer
Ann M. Somers●♦
Lynn Sonnabend
Gary M. Soule
Mary Spelbrink
Russ Stark and Betsy Murray
Byron and Connie Starns
Amy Stedman
Paige Stein♦
Daniel and Beth Stets
Patty Stolpman
H. David Stewart and Elona Street-Stewart
Jana Sullivan
Krissy and Gregor Svensson
Craig Sweet●♦
Amanda and Mark Tempel
Denise Teuber
Bao Thao
Bao Thao
Chris Thao
Paj Thao
Tony Thao
Yang Me Thao
Theresa Thao-Yang and Adam C. Yang
Theresa Thomas
Gael Thompson●♦
Gary Thompson
Joan C. Thompson■
Thomas Thul
William Tilton
Diane Tinnes
Devan Tozzo
Gaelynn Tressler
Nan Upin■
Jennifer Valorose♦
Jane Vanderpoel and Kevin Gutknecht●
DeDee Varner
Jeff Vars and Kelly McElroy
Austine Vaughn Bergling
Ryan and Abby Vavra
Jill Voelker
Wesley S. Volkenant
Patrick Votel
Erica Wacker
Sally Ann and William Wacker
Sean Wallis
Kerry Walsh and Tom Meyer■♦
Kaitlyn Wawryk
Deborah Wayne
Emily Weichsel
Bob Weil
Daniel Weinbeck
Roy and Julia Welter
Erik and Barbara Westgard
Claudia R. Wiebold■
Donald A. Wiebold●
D'Ronte Wiggins
David and Jean Wikoff
Paul Williams
Jonathan Wittman
Mike and Jean Wolff
Susan Wyble
Cindi and Lucky Yang
Mai Choo Yang
Mai Lee Yang
Walter Yang
Amanda B. Yates
Terri Yearwood
Francene Young Rolstad♦
Charles and Julie Zelle
Dale and Claudia Zellmer■
Donna Zimmerman and Phil Ditmanson
Kathleen Zuckerman
Thank You for Your In Kind Gifts
Anonymous (7)
5-8 Club
Acqua Restaurant
Nancy and Evan Anderson
Jennifer and Andrew Adams
Agra Culture Kitchen
Nancy and Evan Anderson
Erik Andress
Arthur Murray Dance Centers
Artistry
Atelier 957
Aveda Relect Salon
B.C. Contracting
Lindsay Bacher♦
Amy Barthel♦
Bent Paddle Brewing Co.
Boy Scout Troop 419
Breadsmith
Brickhouse Food & Drink
Brother Justus
Julie Brunner and Dale Ulrich
Cafe Latte
Armando and Angela Camacho♦
Can-Can Wonderland
Cecils Delicatessen and Restaurant
Ellen Cleary♦
Amelia Colwell♦
Commonweal Theatre Company
Crayola Experience
Dale Studios Inc.
Davita Dialysis
Dellwood Country Club
Lois Duffy
Deborah Engelhard and Patricia Mingee
Entrepreneurial 180
Epicurean
Farmers Insurance
Nona and Vanwright Ferguson♦
Ruth Fingerson
Four Daughters Vineyard & Winery
French Meadow Bakery & Cafe
Kati Giles
Goodthings, Inc.
Alisha Gray
Great Lakes Aquarium
Greater Twin Cities United Way
May and Chengfu Hang
Robyn Hansen
Jennie and John Hawkins♦
Aye Mi San Htoo♦
Amy E. Huerta
HyVee
Benjamin Jewett♦
Rochelle L. and Chris Johnson
Chuck Kanski
Judy and Edward Kishel
La Grolla
Lakeshore Players Theatre
Lark Toys
Jane Lee
Marilyn and Chuck Letourneau
Lillies de Fleur
Paul and Tara Mattessich♦
Julie Megow♦
Minneapolis Heart Institute Foundation
Minnesota History Theatre
Minnesota Orchestra
Minnesota State Fair
Minnesota United Football Club
Mister Car Wash
Michelle M. Morehouse♦
Mary Mosiniak
Mt. Calvary Church
Navisite
Park Square Theatre
Sue Piva and Laurie Keate
Prairie's Edge Casino Resort
Pryes Brewing Co.
PubPass
Mariana Quiroga and Sam Schinazi
R. F. Moeller Jeweler
Red Cow / Red Rabbit
Linda Rucker
Saint Paul Chamber Orchestra
Marina Schimelfarb
Kathryn L. Schleich
Janet A. Schweigert♦
Jan Shimanski and Robert Mills
Julie Smith
Spire Federal Credit Union
St. Paul Saints
Stages Theatre Company
Wendy Stansbury-O'Donnell
Theresa Stene
Stout's Island Lodge
Jennifer Thao and Gregg Musiker♦
Tony Thao
The Cowles Center
The Davidson
The MN Table
Theatre Latte Da
Three Rivers Park District
Total Wine and More
Devan Tozzo
UBS Plaza
Urban Growler Brewing Company
Katie Voss
W. A. Frost and Company
Waldmann Brewery & Wurstery
Liz and Tim Welsh
Amanda Welshons
White Bear Country Inn
Woodbury Lutheran
Wooden Hill Brewing Company
Pahoua Yang and James Song♦
Amanda B. Yates
Annie Zipfel
Thank You Businesses & Organizations
Anonymous  
3M
Abbott Laboratories
Advance Consulting, LLC●
Allianz Life Insurance Company of North America
Allina Health■
Ameriprise Financial Matching Gift Program■
Amtrak
Andersen Windows and Doors●
Bell Bank
Best Buy, Inc.
Blue Cross and Blue Shield of Minnesota●
Bluetree Accounting
Boston Scientific Corporation■
Bridgewater Bank
Capital Maintenance●
Carlson Family Foundation
CB Richard Ellis
CHS Inc.
Ciresi Conlin, LLP●
Creative Fundraising Advisors
Cyber Advisors, Inc.
Dell Technologies
Estee Lauder Companies
General Mills
Givinga
Granite Partners
Hays Companies
Heacox, Hartman, Koshmrl, Cosgriff & Johnson, PA
HealthPartners■
Herregan Distributors, Inc.
Highview Christian Lutheran Church
Hirtle, Callaghan & Co. LLC●
Hmong College Prep Academy
House of Hope Presbyterian Church
Inside Edge Commercial Interior Services●
Jeannie Foster For Kids
John A. and Karen J. Meslow Charitable Fund
KCB Corporation
Koom Tes
Land O'Lakes
League of Minnesota Cities■
Legends Hospitality
Let's Talk Kids LLC
Lockton Companies
LPL Financial
Macalester College
Mairs & Power●
March of Dimes
Medica
Medtronic
Metro Meals on Wheels■
Minnesota Department of Health
Minnesota Department of Human Services
Modern Heating and Air
NCCO
Nilan Johnson Lewis●
PAC Corporation
Piper Sandler
Prime Therapeutics
Ramsey County
Securian Financial
Speece Thorson Capital Group, Inc.●
Spire Federal Credit Union
State of Minnesota
Sunrise Banks
Synchrony Financial Bank
Taft●
The Clorox Company
Thrivent Financial
Travelers
Twilio
U.S. Bank Foundation - Employee Matching Program
U.S. Bank National Association
Ucare
United Way of Central Minnesota
UnitedHealth Group
UnitedHealthcare Services, Inc.
University of St. Thomas
Van Meter, Inc.
VIA Actuarial Solutions
VMC Enterprises
Wellington Management, Inc.
Wells Fargo Community Support Campaign
Gifts In Memory Of
Robert J. Appert
Steve Kallevang
Nola K. Burch
Ada Alden
Amtrak
Ralph Baumgartner
Nadeen Bishop
Donna Boller
John and Emily Brenegen
Janice Dickinson
Roger Eckblom
Janet Favorite
Don and Christine Follett
Kristin Hennig
Deborah Jacobs
Russell and Janice Johnson
Terry Kiel
Evelyn Klein
Jean and Neil Lubke
Gayla Marty
Jodene and David Marquis
Nancy Myers
David Nyberg
Tami Petterson
John Comford
Mary Comford
Maureen E. Dolphin Dwyer
Charles Marschall
Felicia Faust
Megan Habbe
Sybil Feliciano
Stephen Pohl
Jim Gesell
Lee and Barbara Boerbon
Bob Goff
Phyllis Goff
John Kuderka
Patricia Kuderka
Jesse Moen
Jennifer Rosenbusch
Patricia A. Landy
Ruth Appleton
Jim and Vicki Bliss
Jane and Micheal Brodie
Patricia and James Hannasch
James and Lynne Hicks
Kim and Joe Labuz
Janet Peterson
Nancy Price
Michelle Tauer
Gael Thompson
Kathleen Willette
Janet Wilson
Micaiah Montgomery
Lisa Bacon
Jon Nicholson
Henry Bendixen
Chris Schmeisser
Amy and John Hink
Kevin James Shanahan
David and Jean Wikoff
Claudette C. Szczech
VMC Enterprises
Nora M. Wagner
Earl and Roberta Anderson
Arlene Buchman
Lisa Buck
Josephine Cizek
Barbara DeGroy
Kathleen and Tim Donlin
Mary Ann Dovolos
Mary Jo Ellis
Patrick FitzPatrick
Patricia Haedtke
Joni Heinsch
Mary and Michael Joyce
Thomas Joyce
Anthony Joyce
Natalie Krodel
Betsy McBride
Jeanne and Matthew McCann
Linda Moser
Carol O'Connell
Lisa Olson
Timothy Scallen and Catherine Scallen
David and Karen Schlaefer
Joan C. Thompson
Jonathan Wittman
Susan Wyble
Gifts in Honor Of
Laura Brown
Dorothy Skobba
Julie Brunner
Emmanuel Munson-Regala
Amy Christensen
Jennifer J. Garber
Susan Gauthier
Greg Hanley
Julia Joseph-Di Caprio and Fernando Di Caprio
Michelle OBrien
Hillary Robertson
Amelia Colwell
Mary Comford
Ralph and Mary Pat Davini
Anita Scott
Chuck Dietz
Richard and Nancy Nicholson Fund of the Nicholson Family Foundation
Lequetta J. Diggs
Richard S. Kleber
Ruth A. Fingerson
Laura Fingerson
Golden Rule Coffee Club
Minnesota Department of Health
Tiffany Scott Knox
Mark Egge
Paul W. Mattessich
Elizabeth M. Kiernat
Tom and Mary Kingston
Cathy Plessner
Ela Rausch and Jonathan Hansen
Barbara Roy
Susan Smith
Mark O. Stutrud
Christine Miller
Bonnie and Richard Mereness
Michelle Morehouse
Kristina Madigan
Jean Nevius
Emily Weichsel
Ronan and Maeve
Mary McAdaragh
Jennifer Valorose
John and Ruth Scheef
Andrea Walsh
Emmanuel  Munson-Regala
Children of Don and Claudia Weibold
Donald A. Wiebold
Wilder Advancement and Communications
Joanne Curry
Grants to Wilder
3Mgives
Allianz Life Insurance Company of North America
Allina Health
AmazonSmile Foundation
Andersen Corporate Foundation
Andis Charitable Gift Fund
Anonymous  (5)
Aon Foundation
Art and Martha Kaemmer Fund of HRK Foundation
Bank of America Charitable Foundation
Berg Family Charitable Fund
Best Buy, Inc.
Blue Cross and Blue Shield of Minnesota
Blue Cross and Blue Shield of Minnesota Foundation
Boston Scientific Corporation
Bush Foundation
C & M Betts Charitable Unitrust
Carlson Family Foundation
Cecelia M. Goswitz Fund of The Saint Paul Foundation
Christine & Patrick Donovan Family Fund of The Saint Paul Foundation
CHS Inc.
Cigna Foundation
Cirillo Family Charitable Fund at Schwab Charitable
City of Saint Paul
Clifford C. & Virginia G. Sorensen Charitable Trust of The Saint Paul Foundation
Dakota County
Dakota County Community Development Agency
David and Mary Joyce Monson Charitable Remainder Unitrust
Dr. James W. LaFave and Gail O. LaFave Fund
Dr. Robert and Linda Fisher Charitable Fund
Eagan Foundation, Inc.
Ecolab Foundation
Edward and Lois Black Family Charitable Fund
Elizabeth H. Cobb & Peter V. Maye Charitable
Eugene U. and Mary F. Frey Family Fund of The Saint Paul Foundation
Frank M. DeForce Fund
Frey Foundation
General Mills Foundation
Goodwin-Lindsay Family Fund of the Minneapolis Foundation
Granite Foundation
Granite Partners
Greater Twin Cities United Way
Greene Family Foundation
Hearth Connection
High School for Recording Arts
Hiway Credit Union Foundation, Inc.
Holcomb Family Fund of the American Endowment Foundation
Hugh J. Andersen Foundation
IGRB Foundation
Initiative Foundation
ISD 622
ISD 287
Jay and Page Cowles Giving Fund of Fidelity Charitable
Joan Duddingston Fund of Schwab Charitable
Julie and Kirk Cousins Foundation
Ken and Nina Rothchild Family Fund of The Saint Paul Foundation
King Family Foundation
Kottke Giving Fund
Kuhrmeyer Family Foundation of The Saint Paul Foundation
Lumabel Charitable Fund of Vanguard Charitable
M Health Fairview
March of Dimes
Mardag Foundation
Margaret A. Cargill Philanthropies
Mark and Jackie Nolan Family Fund of The Saint Paul Foundation
Mary and Louis Eisenmenger Memorial Fund
Medtronic Foundation
Metropolitan Regional Arts Council
Michael V. and Ann C. Ciresi Foundation
Minneapolis Foundation
Minneapolis Social Justice & Human Rights Fund
Minnesota Board on Aging
Minnesota Department of Education
Minnesota Department of Health
Minnesota Department of Human Services
Minnesota Department of Human Services - Aging
 
Minnesota Department of Labor and Industry
Minnesota Housing
Minnesota State Arts Board
Missy Staples Thompson Fund
Mitsch Family Fund of Schwab Charitable
Morgan Family Foundation
Network for Public Health Law
Northwest Minnesota Foundation
Olson Family Charitable Fund
Otto Bremer Trust
Patrick and Colleen Bollum Family Fund of the Saint Paul and Minnesota Foundation
Pohlad Family Foundation
Pope/Wong Family Fund
Ramsey County
Ramsey County Community Human Services Department
Rebound, Inc
Richard and Nancy Nicholson Fund of the Nicholson Family Foundation
Richard M. Schulze Family Foundation
River Road Foundation
Robert E. and Edith M. Grissinger Foundation
Robin J. Torgerson Charitable Fund at Schwab Charitable
Roger & Patricia Kerber Family Fund of Schwab Charitable Fund
Romain Charitable Donations Fund of Fidelity Charitable
Ronnie and Roger Brooks Fund of The Saint Paul Foundation
Sabes Foundation
Saint Paul and Minnesota Foundation
Saint Paul Public Library
Saint Paul Public Schools
Sando Foundation
Scott Family Foundation
Southwest Initiative Foundation
St. Paul Children's Collaborative
St. Paul Midway Lions Club Foundation, Inc.
Steve and Susie Fritze Family Fund of the Saint Paul Foundation
Stevens Square Foundation
Swanson Charity Fund of Fidelity Charitable
Swenson Hill Giving
Target Foundation
Terrance D. & Jacqueline J. Capistrant Parkinson's Foundation
The C. Curtis Dunnavan Fund
The Dante Moreira Gilbert Fund of Franklin Charitable Giving
The EkoForss II Fund of the National Philanthropic Trust
The Ford Family Foundation
The Gary and Paula Christensen Family Charitable Fund
The Jay and Rose Phillips Family Foundation of Minnesota
The John and Ruth Huss Fund of the Saint Paul Foundation
The Katherine B. Andersen Fund of the Saint Paul & Minnesota Foundation
The Laurie Knocke Donor Advised Fund
The Margaret A. Cargill Foundation Fund of the Minnesota Community Foundation
The McKnight Foundation
The Mitsch Family Foundation of the Saint Paul Foundation
The Patrick and Aimee Butler Family Foundation
The Sheltering Arms Foundation
The Wilford Family Foundation
Timian Family Fund
Todd and Martha Nicholson Fund of the Nicholson Family Foundation
Tom and Eve Fund
Trellis
Trillium Family Foundation
U.S. Department of Housing and Urban Development
U.S. Department of Health & Human Services
UCare
Wainwright Charitable Fund of the Minneapolis Foundation
Walser Family Fund of The Saint Paul Foundation
Wells Fargo Foundation Minnesota
William E. Harrison Charitable Fund of Fidelity Charitable
William E. Harrison Charitable Fund of US Charitable Trust
Women's Foundation of Minnesota
YF Yang Memorial Fund
Zesbaugh Charitable Fund at Schwab Charitable
Thank You Heritage Partners
for your lasting support of Wilder!
Your gifts to Wilder's endowment work to sustain our vision of ensuring families and communities thrive today and for generations to come. By making a gift through your wills, life income arrangements, beneficiary designations and other estate plans, you help us be here for good!
Anonymous (23)
John and Anne Bendt
William J. Benzick
Charles R. Betts*
Margaret M. Betts*
Craig and Kathleen Binger
Edgar* and Jean* Blanch
Elizabeth Bogared*
Tisha Bolger
Ronnie and Roger Brooks
Hildegarde H. Conkling*
Erin D. Coryell
Robert A. Crowe*
Ken and Abby Dawkins
Charlton H. Dietz
Dottie Dietz*
Elisabeth W. Doermann*
Drs. Phillip and Sandra Edwardson
Lorraine M. Ellingsen*
Arthur R. Emmerich*
Judith Gavin
Bob and Elaine Golberg
MayKao and Lao Lu Hang
John Hauschild*
Nancy Hauschild
Adrian and Nancy Hertog
Herman M. Hertog*
Katharina Hertog*
Catherine* and John* Hill
Martha E. Hoover*
Mary* and Irving Jerry
Bernice Jessen*
Rod and Lil Johnson
David B. Kachel*
Nancy L. Kachel
Janet Kelly*
Bruce Kiernat*
Sandy Kiernat
Tom and Mary Kingston
Laurence J. Kress*
Francis* and Verona* LaBelle
LeAnn G. LaCourse*
John* and Nancy Lambros*
Martha A. E. Larson*
Alice Leach*
Roger Lenzmeier*
George A. Mairs, III*
Dusty Mairs
L. Frank* and Irene* Maistrovich
Philip C. Manz
Paul and Tara Mattessich
Dorothy K. Merrill*
David* and *Mary Jo Monson
Michelle M. Morehouse
Roberta A. Mundschenk*
John and Renee Nagel
Nancy and Thomas Nelson
Eric Nicholson and Anna Waters
Walter* and Eleanor* Nyberg
Greg and Phyllis Owen
George and Diane Power
George C. Power, Jr.*
Norman M. Rose*
Ken and Nina* Rothchild
Barbara Roy
Philemon C. Roy*
Kathryn L. Schleich
David and Cecilia Simpson
Leonard H. Tesmer*
Robert H. Tucker*
Paul* and Carolyn Verret
Lucille O. Werner*
Paul* and Lucille* Werner
Richard* and Florence* Wickworth
Winnie V. Wickworth*
Leni and George Wilcox
Becky and Gerald Woelfel
Ann L. Wynia
Mai Kou Xiong*
Robert and Katherine Yaeger
Reta G. Youngman*
Dick and Janine Zehring
Ordinary Magic Sponsors
Wilder thanks the following generous sponsors for their support of Ordinary Magic, our annual fundraising event in support of Wilder, held in May 2021.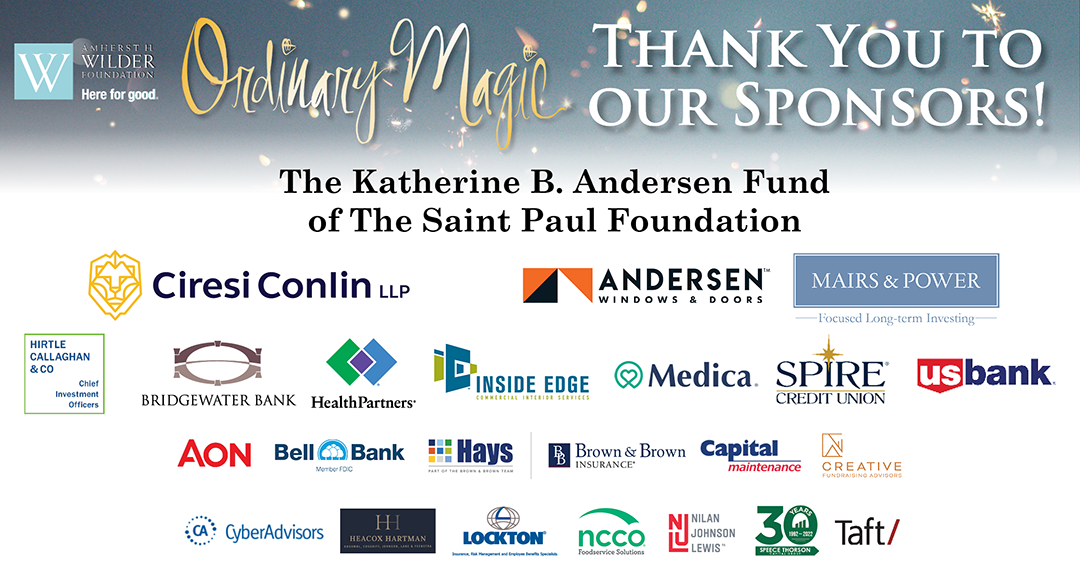 The Katherine B. Anderson Fund of The Saint Paul Foundation
Ciresi Conlin LLP
Andersen Windows & Doors
Mairs & Power
Hirtle Callaghan & Co.
Bridgewater Bank
HealthPartners
Inside Edge Commercial Interior Services
Medica
Spire Credit Union
US Bank
Aon
Bell Bank
Brown & Brown Insurance
Capital Maintenance
Creative Fundraising Advisors
CyberAdvisors
Heacox Hartman
Lockton
NCCO
Nilan Johnson Lewis
Speece Thorson Capital Group
Taft
CBRE - Jerry Driessen
Modern Heating & Air
Sunrise Banks
Thank You volunteers and interns for making an impact in our community and at Wilder!
Individual Interns & Volunteers
Abbey L.
Abigail S.
Adah S.
Adam K.
Alex C.
Alex S.
Alissa J.♦
Alysha N.
Amanda B.
Amanda E.♦
Amanda W.
Amanda Y.
Amber K.
Amelia C.♦
An R.
Andrea D.♦
Andrew M.
Andy B.♦
Andy F.
Angie H.
Ann H.
Anne L.♦
Anne M.
Anne R.♦
Annie Z.
Annika T.
Araceli G.
Asmir B.
Avadis M.
Barb L.
Bee X.
Ben J.♦
Beryl N.
Bethany A.
Bill G.
Bill T.
Boje S.
Brooke G.
Caitlin R.
Cameron H.
Cassandra W.
Cece T.
Chantal S.
Charles M.
Cherste E.
Chioma I.
Chris B.
Chris N.
Chuck P.
Courtney H.
Craig B.
Cynthia L.
Dan S.♦
David H.
David S.
Debra B.
Dee V.
Dego S.
Diane T.
Dolores J.
Donna C.
Duaha L.
Ellie G.
Elliott W.
Emily H.
Emily K.
Emily R.
Erin C.
Fadhily M.
Gayle B.
Gem Y.
George H.
Gina F.
Glen S.
Greta D.
Hannah W.
Heather L.♦
Helen H.
Helen Mary H.
Hiroo M.
Holly F.♦
Hope I.
Jack B.
Jack M.
Jackie T.
Jackson R.
Janette S.
Jeff K.
Jenna D.
Jennifer A.
Jenny G.♦
Jessie A.♦
Jessie E.
Jill S.
Jimi N.
John G.
John S.
Jon W.
Judy K.
Julia C.
Julie B.
Julia M.♦
Julie L.
Julie M.♦
June W.
Kai M.♦
Karen M.
Karen M.
Karyn T.♦
Karlie K.
Katelin W.
Katelyn M.
Katherine J.
Kathleen L.
Kathryn S.
Kathy D.♦
Katie B.
Katie C.
Katie K.
Kelly L.
Kerry J.
Kevin E.
Kristina K.
L. S.
Lance P.
Lauren S.
Lavina A.
Leo A.
Lexi D.
Lilille D.
Lily C.
Liz E.
Liz S.
Lizzy S.
Lori R.♦
Louise B.
Mac B.
Maggie K.
Maggie O.
Mai Nyua L.♦
Maisee X.
Margaret N.
Margi H.
Margie P.♦
Margo L.
Maria G.
Maria M.
Mariana Q.
Marie V.
Mark B.
Mark C.
Mark L.
Mark S.
Mark Z.
Martha T.
Mary C.
Mary Clare M.
Mary L.
Mary O.
Marybeth D.
Matt R.
Maureen A.
May Y.
Megan H.
Melissa P.
Michael H.
Mike S.
Mitch O.
Mushin A.
Natalie N.
Nick V.
Nickole F.
Nicole W.
Nora J.♦
Nub Y.♦
Nykayla G.
Pam M.
Pan M.
Pat G.
Patrick D.
Patti M.
Paul S.
Peggy J.
Peggy R.
Peter C.
Rachel B.
Rachel F.♦
Rachel J.
Rahul K.
Rich W.
Robyn H.
Rochelle J.
Rollin W.
Ron D.
Ross T.
Ruby K.
Sameer S.
Samreen S.
Samuel S.
Sandy H.
Sarah G.♦
Sarah H.
Scott K.
Shane Z.
Shashee Y.
Sheila S.
Sheri H.♦
Sonya C.♦
Sue D.
Sue P.
Susie O.
Tara C.
Terrance H.
Therese P.
Thomas C.
Tina T.
Tony K.
Tracey C.
Tracy S.
Trista S.
Tyra B.
Udele X.
Vanessa G.
Vickie L.
Wa Y.
Wanda V.
Wendy C.
Volunteer Teams
3M
East Metro Community Resources (EMCR)
Kaposia, Inc.
Maternity of Mary - St. Andrew Catholic School 5th Graders
Minnesota Court of Appeals
PNC Bank
St. Thomas Academy
Van Meter, Inc.