Header Type

Title
Ordinary Magic 2022
An Annual Community Celebration and Fundraiser in Support of Wilder's Mission
Body
Thank you for sparking magic with Wilder

on Thursday, May 12, 2022, at Saint Paul College!
You brought the magic! Together we raised more than $300,000 in support of the people and families that Wilder serves. 
Thank you for joining us at Ordinary Magic and for your belief that together we can build a stronger Saint Paul, one family at a time. We loved gathering with a room full of passionate supporters of this work!
Section
Watch Sebastian and Tash's story
During Ordinary Magic, Sebastian and Tash shared their experience with Wilder supportive housing services at Lincoln Place. Watch the video!
I was happy that I didn't have to deal with living with somebody else, I wasn't experiencing homelessness anymore. CDA and Wilder were both very accommodating to me. They gave me an opportunity that I never got from anyone else, and I can honestly say that they saved my life. 
Sebastian, former participant in Wilder Supportive Housing Services
Make an Impact at Wilder
If you missed Ordinary Magic, you can still support Wilder! Donate online or contact us at magic@wilder.org for more ways to contribute.
Sarah, participant in Wilder Community Mental Health and Wellness and donor
More Opportunities to Support Wilder's Mission
Donate to the Campaign for Families
If you are considering a pledge to the Campaign for Families, please contact Anne at anne.rodenberg@wilder.org to confirm and with any questions you may have.
Provide feedback about Ordinary Magic
We'd love your feedback! Please take a few minutes to complete our guest survey to help us plan for next year.
Learn about volunteering at Wilder
Your support of Wilder's mission helps provide:
Wilder Research client Jeanne Calvit, Interact Center For The Visual And Performing Arts
Thank you, Ordinary Magic volunteers!
Ordinary Magic Committee: Jennifer Adams, John Gauger, Maggie O'Gara, Kathryn Schleich, Judy Kishel, Sue Piva
In addition, more than 40 volunteers and staff came together on May 12 to make Ordinary Magic a success!
THANK YOU TO THESE ADDITIONAL SPONSORS
CBRE - Jerry Driessen
Modern Heating & Air
Sunrise Banks
Stories of Ordinary Magic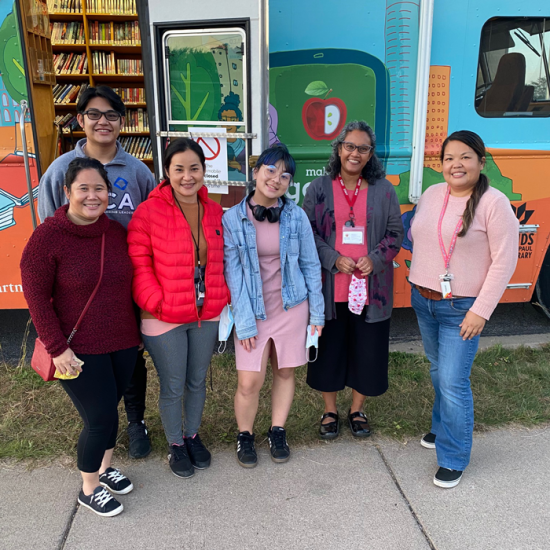 Saint Paul Public Library Uses Evaluation to Expand Community Services
Saint Paul Public Library's Community Services program connects the library and Karen, Latinx, and Somali communities in Saint Paul through culturally responsive and informed programs, resources, and services. After years of building the program, library staff knew they had a strong foundation on which to build and wanted to tie the program to their strategic plan. Learn how Saint Paul Public Library and Wilder Research worked together to evaluate this program and expand its reach.
More about this story »