Tools for School Success Backpack Drive
Providing school supplies to students served by Wilder
Through the Tools for School Success backpack drive, you can help make sure that every student served by Wilder has school supplies. By providing backpacks and school supplies children are better equipped to start the school year with the supplies they need to be focused on learning. This is especially important for the families that Wilder engages and supports.
Thank you to Greater Twin Cities United Way for providing backpacks to Wilder through their Action Day!

Beyond what we receive from United Way, we have additional needs to fill.

  In 2020, you can make a financial contribution or bring a filled bag to Wilder. 

Donate or deliver filled backpacks by Friday, August 21, 2020.

Questions? Email laura.brown@wilder.org.
Due to COVID-19, the backpack drive is being adapted for the safety of employees, volunteers and recipients.

There are two ways that you can help in 2020.
Donate Online to Pay for Backpacks
Fill out the online donation form and we will purchase backpacks and supplies to deliver to children served by Wilder. You can choose how many backpacks you want to pay for.
Deliver Filled Backpacks to Wilder
Fill and deliver complete, age-specific backpacks to Wilder filled with supplies and packaged for safe distribution to children and families. We will not be collecting supplies or packing backpacks this year due to safety concerns. We are instead asking that donors fill their backpacks with a complete set of school supplies, place them in plastic bags and drop them off at Wilder ready for distribution to families and children.
School Supply List for Each Backpack
1 New sturdy backpack (no wheels)

24 pack of crayons

2 highlighters (any color)

10 pack of washable markers

1 12 count box of colored pencils

1 12 count box of #2 pencils

1 package of blue or black pens

2 large pink erasers

4 glue sticks

1 pair of blunt/rounded scissors

3 wide-rule notebooks (college rule notebooks for high school students)

3 two-pocket folders

Pencil pouches or pencil box
How to Package Backpacks for Delivery to Wilder
Pack school supplies in each backpack

Place the completed bag(s) In a garbage bag, grocery bag or other disposable bag

Label the disposable bag with elementary or middle/high school so that we can sort them 
You can bring your completed backpacks to Wilder Center by appointment only the week of August 17, 2020. Email laura.brown@wilder.org to make an appointment.
Masks are required in Wilder Center.
Want to Partner With Wilder?
The Tools for School Succes Backpack Drive is a perfect opportunity for businesses teams to make a difference in the community and a great project for families and individuals to do at home.
Have questions?

Please contact Laura Brown at laura.brown@wilder.org for more information about how to participate.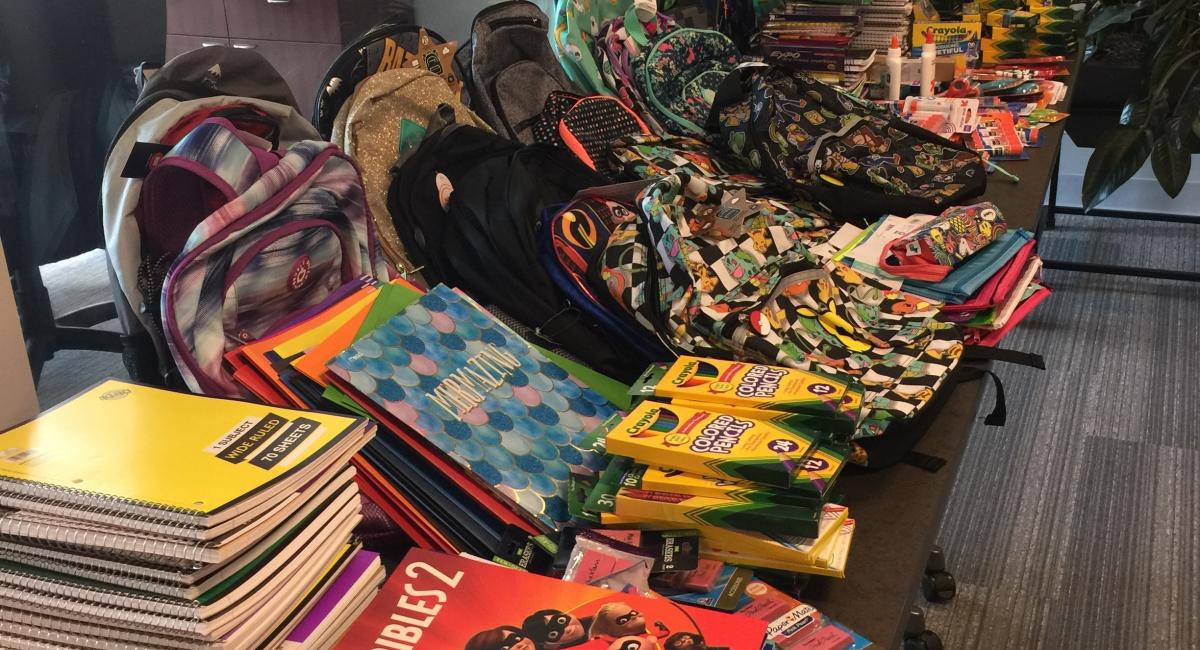 I believe in Wilder's values and the mission. The work that I have done here feels more fulfilling than any paid job I ever could have done.
Kathryn Schleich, donor and volunteer who supports school success at Wilder