Title
Twin Cities Mobile Market Means More Fruit and More Opportunities to Share
Body
Gail Johnson likes her apartment in the Humboldt Senior Apartments in Saint Paul, and she loves the caring attitude among the residents of her complex. The 80-year-old retired church secretary is often found in the community room in the basement of the complex, sharing coffee and conversation with other residents of her community. She's known as the "Cookie Lady."
But before the Twin Cities Mobile Market started coming to the apartment complex, Gail – who loves baking and sharing food with others – didn't have easy access to a grocery store. Gail's daughter, whom she describes as a "saint," drove her to Wal-Mart or another store several miles away to buy groceries.
The Mobile Market's remodeled city bus stocked with groceries began weekly stops at her senior complex in December 2014, and Gail has been a regular customer ever since. "I love the convenience," she says. "It's absolutely perfect."
"Marvelous" Mobile Market Staff
Each week, Gail walks out of her building and boards the distinctive green bus. She works her way through shelves of food lining the bus walls, selecting raspberries and other fruit, along with staples such as sugar, flour, eggs, yogurt and cottage cheese. When she asks, Mobile Market staff add items such as No-Name Steaks or dark brown sugar.
After she pays at the register at the back of the bus, Mobile Market staff carry her groceries off the bus for her. Gail says staff have even offered to bring her groceries right to her apartment door, though she usually chooses to carry her groceries herself. On one particularly slippery day, she recalls, a Mobile Market employee took orders from customers at her stop and brought the groceries to them rather than asking customers to navigate icy paths.
"The staff are marvelous," Gail says.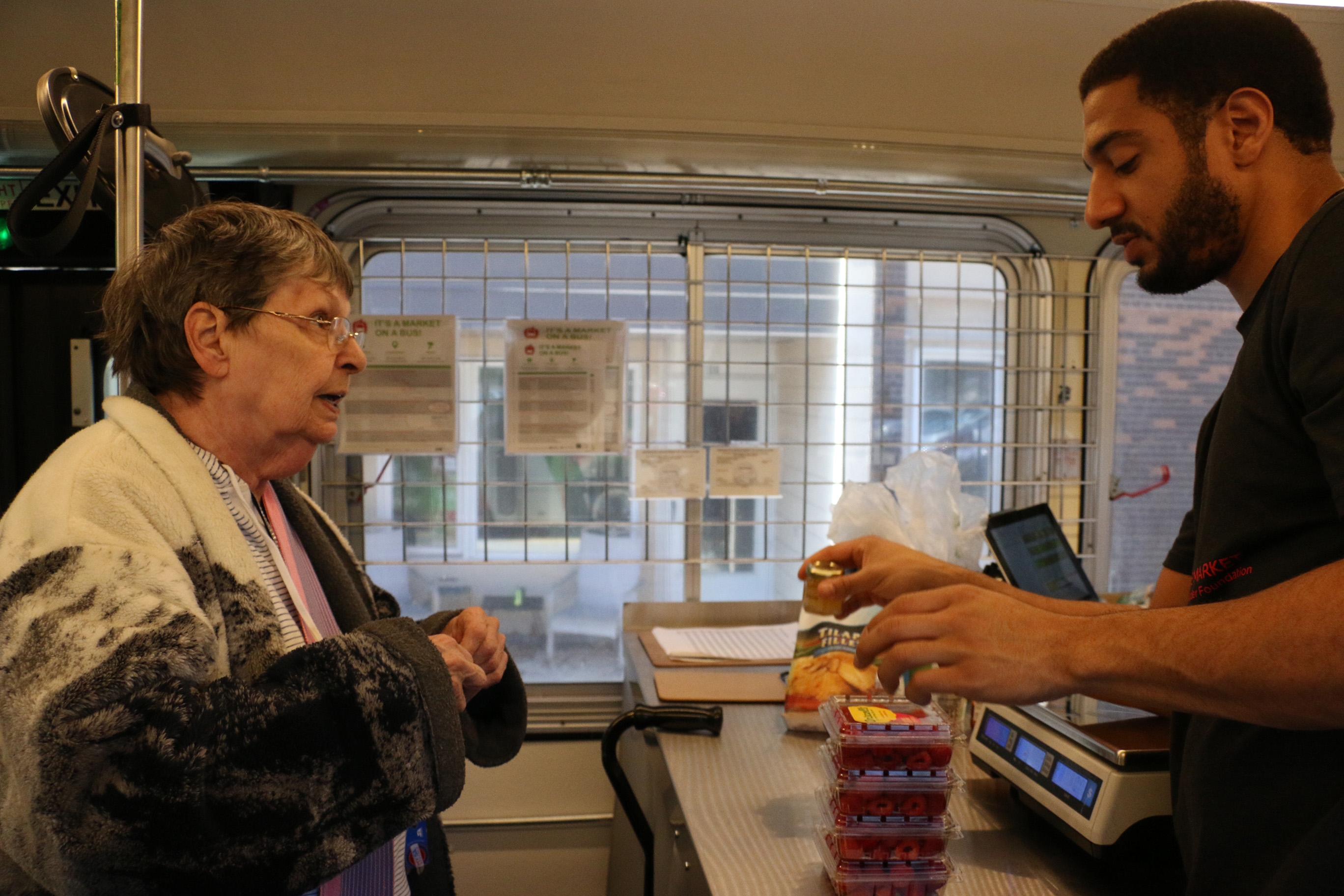 Mobile Market Provides More Fruit, New Recipes
Gail now buys all her produce through the Mobile Market, and she eats at least three servings of fruit every day. Previously, she says she might have had a can of oranges for her daily fruit. "My diet prior was terrible," she says. "I just didn't eat the fruit. Now I eat the same things as before, but with more fruit."
Gail has also taken part in the Mobile Market's efforts to increase customers' knowledge of healthy foods. She took a six-week cooking class for residents at her complex and has made many of the recipes at home.
She's also using Mobile Market ingredients and her new recipes into her love of sharing food with others. Recently, Gail planned to use items she purchased on the bus to make an egg dish for a Saturday morning coffee hour in the community room in her apartment complex.
Gail thinks that it makes people feel good to receive baked goods and meals – and she likes it too. "It gives me the warm fuzzies," she says.
After five years as a program of Wilder, the Twin Cities Mobile Market is now part of The Food Group.
Sections
My diet prior was terrible. I just didn't eat the fruit. Now I eat the same things as before, but with more fruit.
Gail Johnson, Regular Customer, Twin Cities Mobile Market