Title
"They just want to love you for who you are:" Cretin-Derham Hall volunteers gain valuable lessons from young learners at the Child Development Center
Body
The Wilder Child Development Center strives to recognize and meet the diverse interests and abilities of children and their families. That commitment extends to volunteers. Staff at the center welcome groups and individual volunteers – and as students at Cretin-Derham Hall have learned – there are a variety of projects that volunteers join.
Sections
The first time Cretin-Derham Hall student Delvin Tacheny volunteered at the Wilder Child Development Center, he and fellow students transferred holiday gifts for kids from storage to the child care center and preschool. They hauled trash to a dumpster. Then came the most memorable part of the experience: helping in classrooms. 
"I hung out with toddlers all day. It was fantastic, but it took a lot of energy.
Delvin Tacheny, Wilder Child Development Center volunteer
Students at Cretin-Derham Hall, a private Catholic High School in the Highland Park neighborhood of Saint Paul, have been regular volunteers at the Wilder Child Development Center in Frogtown for nearly 20 years. Each month, a group of 8-10 students come to the center for tasks that vary from chores around the building and grounds to spending time with toddlers and preschoolers – even assisting with naptime.
The long relationship has been a good way to maintain a connection to the local community, says Peter Gleich, a Campus Minister who leads groups of students to volunteer at Wilder. "I tell our kids, be prepared," he says. "These kids at the Child Development Center are going to want nothing but to have you be their human jungle gym. They're not going to care about your GPA. They don't care what team you're on. They just want to love you for who you are."
Time at the center provides high school students with the opportunity to explore their gifts, talents and interests in a new environment. After volunteering, some students have been inspired to pursue a career in early childhood education, Peter says. Some have returned to the center as classroom aids.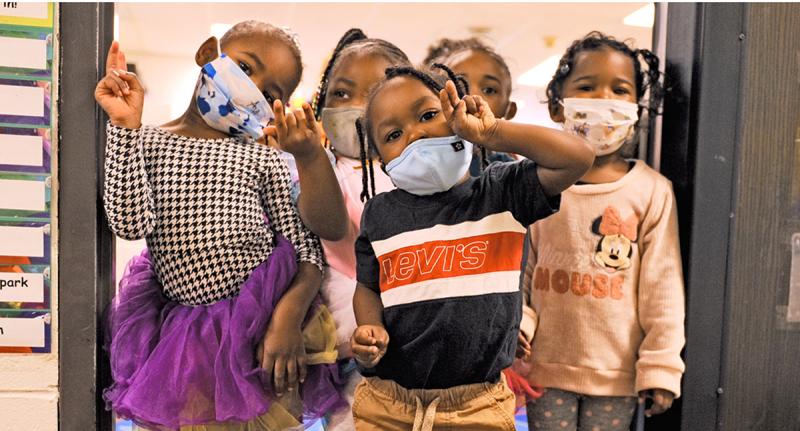 Regardless of whether their volunteer involvement sparks career aspirations, the experience is valuable. Delvin notes that high school students who volunteer at the center learn skills in a new context, which fosters adaptability. "The other thing is it's a completely different level of human interaction, because you have to be able to satisfy the needs of multiple kids at the same time," he says. "Patience is extremely valuable."
For the Child Development Center, the long-lasting volunteer relationship with Cretin-Derham Hall has been rewarding because of the interactions between high school students and toddlers and preschoolers who are just beginning their educational journeys. Both sets of students learn and benefit from the newfound relationships.
"Preparing our kiddos for success in kindergarten and beyond is a community effort," says Angela Clair, director of the Child Development Center. "Our parents and families are involved in their kids' learning, and we encourage volunteers and community members to support our kids as well. It's good for our students to feel the support and encouragement from high school students – and we love seeing high schoolers grow and learn from interacting with the little ones."