Title
Telling Queer History storytelling events create community connection
Body
For 10 years, Telling Queer History (TQH) has been creating spaces for people to connect, and using storytelling to build community and foster belonging. The organization was created as a response to the erasure of LGBTQ+ history in public spaces and with a desire to create more intergenerational, intersectional spaces. Though they had done some event surveys, they wanted to gather more in-depth evidence that they were actively "fostering compassion, empathy, and healing" as their mission says, and learn about the long-term effects of their programming. That led TQH to apply for pro bono services from Wilder Research. 
"We know that our storytelling gatherings offer vital services to our community. Direct services like housing and food support keep people's bodies fed. Our work feeds their spirits, bringing them a sense of belonging within the greater LGTBQ+ history and our local community. Belonging helps keep people stable, keeps them from self-harm, keeps our community safer and more able to care for each other," Telling Queer History staff wrote in their application. 
"With Wilder's support, we will be able to show the direct connection between our community gatherings and community well-being."
Measuring a sense of community and belonging
TQH was selected from 37 organizations that applied for pro bono research and evaluation assistance from Wilder Research in 2022. The pro bono work is intended to support culturally specific organizations' needs by providing useful, actionable research and evaluation services at no cost.
Wilder Research partnered with TQH to conduct a survey and in-depth interviews with its storytelling event participants and storytellers. The goal was to measure the impact related to participants' sense of community and belonging and to the broader queer community as a whole, learn about the level of satisfaction, and gather suggestions for future events.
The study results found that event participants were motivated by a desire for community and connection and that TQH provided opportunities for participants to find and build community by making a queer-centered space to gather. Results also showed that storytelling helped to personalize the nuance and multidimensionality of the queer community, highlight the diversity and intersectionality of the community, and was an effective way to harness community strength and power.
Study respondents also noted the value of being with others like themselves in a queer-centered space, having a multi-generational environment, and immersing themselves in the diversity of the queer community.
Suggestions for future events included increasing outreach; exploring topics such as allyship in action, erasure, queerness and neuro-divergence, queers in trade careers, queer youth, and rural queer experience; offering storytelling coaching or mentorship; and continuing responsiveness and collaboration between TQH and community members.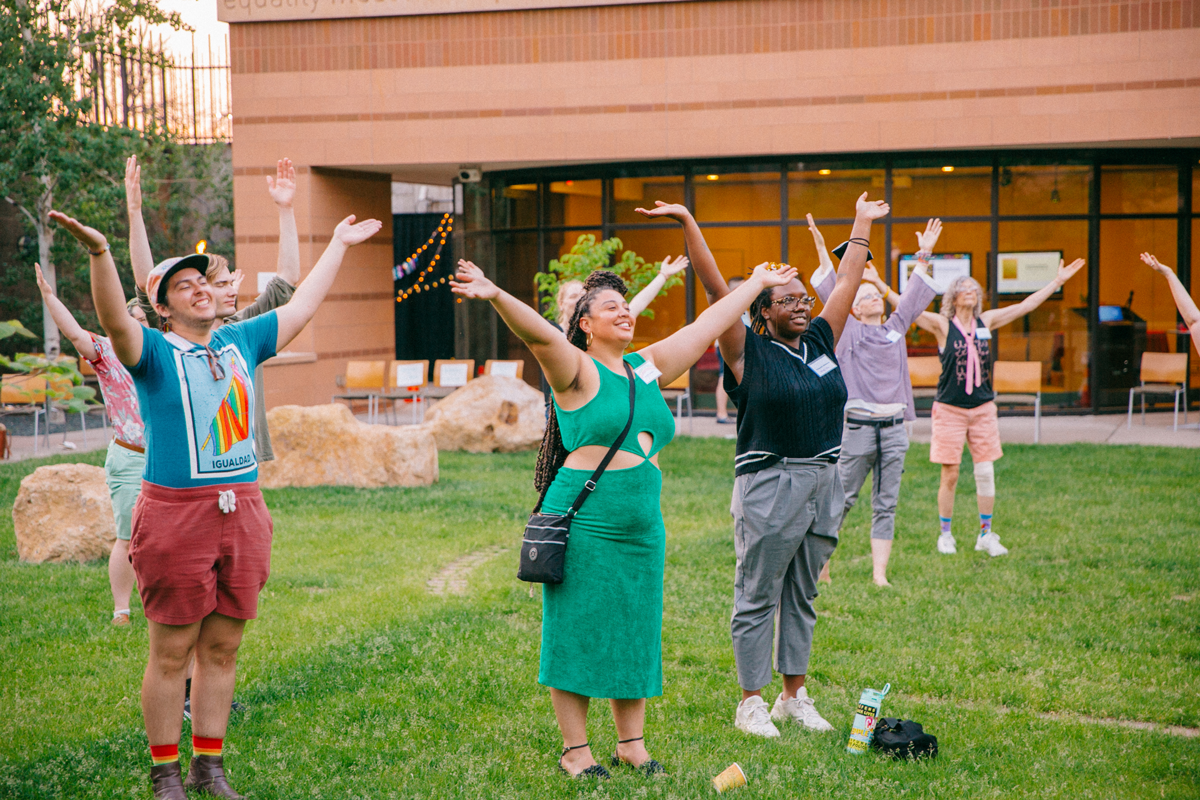 Obtaining evidence to continue making an impact
TQH plans to use the data gathered in the study to support fundraising and grant writing, and to make the organization financially sustainable. They also plan to share the data with their community, event attendees, and other supporters in order to be transparent about their intentions and programs.
"Wilder Research has given us data and information that supports what we knew to be true: that our storytelling gatherings are nurturing the soil and souls of our community so they can thrive," said founder and executive director Rebecca/RJ Lawrence. "Obtaining evidence of our organization's impact will help us identify and make needed adjustments, and improve our programming to ensure we continue to make the impact we are trying to achieve."
Sections
Wilder Research has given us data and information that supports what we knew to be true: that our storytelling gatherings are nurturing the soil and souls of our community so they can thrive.
Rebecca/RJ Lawrence, Telling Queer History executive director