Title
Ending Homelessness Together: Wilder Research partnerships help the community and Wilder programs understand homelessness and housing needs in Minnesota
Body
 The Minnesota Homeless Study, one of Wilder's best-known research projects, will return on October 26 after a pause during the pandemic. Wilder Research conducts the study every three years to better understand the prevalence of homelessness as well as the circumstances of those experiencing homelessness in Minnesota.
Sections
"A lot of people are anxious to get the latest information on what the impact was of the pandemic on our population experiencing homelessness in Minnesota," says Michelle Decker Gerrard, Senior Research Manager at Wilder Research and co-director of the study. "What has changed? What remains the same?"
Wilder Research partners with state agencies, regional planning entities, tribes, housing service providers, and more than 1,000 volunteers across the state to conduct survey interviews with people experiencing homelessness on a single day about their lives and experiences.
Data shows homelessness as a systemic issue
The Minnesota Homeless Study provides data and analysis that policymakers, communities and organizations—including Wilder—use to identify and address systemic issues, improve programs and policies, and ultimately eliminate homelessness. At the start of the pandemic, for example, the state used Homeless Study data to understand who would be at highest risk of Covid when creating plans for services.
"When we first started doing this study (in 1991), people really looked at homelessness as an individual problem and individual issues that brought them into homelessness," Michelle says. "And now, I think we really look at homelessness as a systems issue. It's about affordable housing. It's about all sorts of barriers to people getting stable housing."
Data helps design different support for families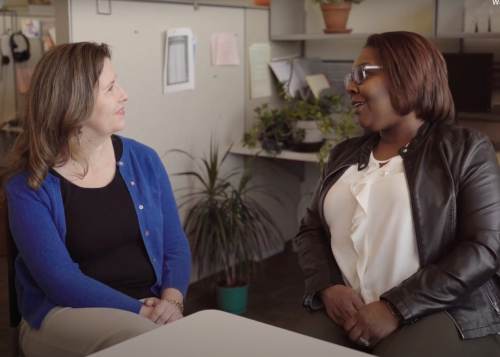 Data from the Homeless Study and other information from Wilder Research are particularly useful for Wilder's programs and services, which focus on using outcomes and data to improve.
Wilder's supportive housing team used Homeless Study and other Wilder Research data to design Direct Housing Assistance, which provides individuals and families connected to Wilder programs with financial relief by sending small payments directly to landlords and mortgage companies.
Antonia Coleman, who manages Direct Housing Assistance, points to Homeless Study data that showed that many adults who experience homeless today were first homeless as children. It is important to intervene early to break this cycle. The team used that information to design Direct Housing Assistance to help prevent families from experiencing homelessness in the first place.
Direct Housing Assistance continues to adapt
Now Wilder Research is evaluating the effectiveness of Direct Housing Assistance. "We wanted to be responsive to what families were saying," Antonia says. "We didn't want to just have it be a one-and-done. We wanted to say, 'What do families need? What is our community saying?'"
For example, Direct Housing Assistance initially excluded families who received rental subsidies, but evaluation data showed that many families who were receiving rental subsidies were contributing more than 50 percent of their income to rent. Direct Housing Assistance changed the eligibility criteria in response.
The eligibility change meant that more families qualified for Direct Housing Assistance. Some of those families eventually gave up their subsidy while they worked toward their goal of home ownership, Antonia says.
The combination of research and programs at Wilder is beneficial to everyone, Michelle says. "Being a community-based organization, we get to work together to help make a bigger impact in our community and statewide," she says.
Help make the Minnesota Homeless Study a success
We can't conduct the study without you!
Volunteer
Join interviewers throughout Minnesota to conduct face-to-face interviews with people experiencing homelessness.
Donate
Provide financial support to provide critical research on homelessness in Minnesota.