Title
Double Delivery: Saint Paul Fire Department Educator Offers Lunch and Safety through Meals on Wheels
Body
Jeremy Berger is trying to lower the risk of fire with each delivery he makes through Meals on Wheels. As the fire and life safety educator for the Saint Paul Fire Department, Jeremy delivers Meals on Wheels to seniors and adults with disabilities – and he offers free safety surveys, smoke detectors and fire safety equipment at each home he visits.
"Most people are very excited to have me check (smoke detectors), as they are often unable to do so," Jeremy says. "If I find outdated alarm battery in battery operated alarms, I replace them. I also add more alarms to ensure that people have enough warning to be able to escape. Once I'm done, we have a conversation about fire and fall prevention."
Jeremy makes the service, called Project Safe Haven, sound simple. But the impact is real. "One of our goals is to help clients live safely in their own homes," says Christine Miller, Wilder's Meals on Wheels coordinator. "If it weren't for Jeremy, our clients would most likely not have access to this service and the convenience of coming directly into their home for a personalized safety survey."
Warm Meals, Fresh Batteries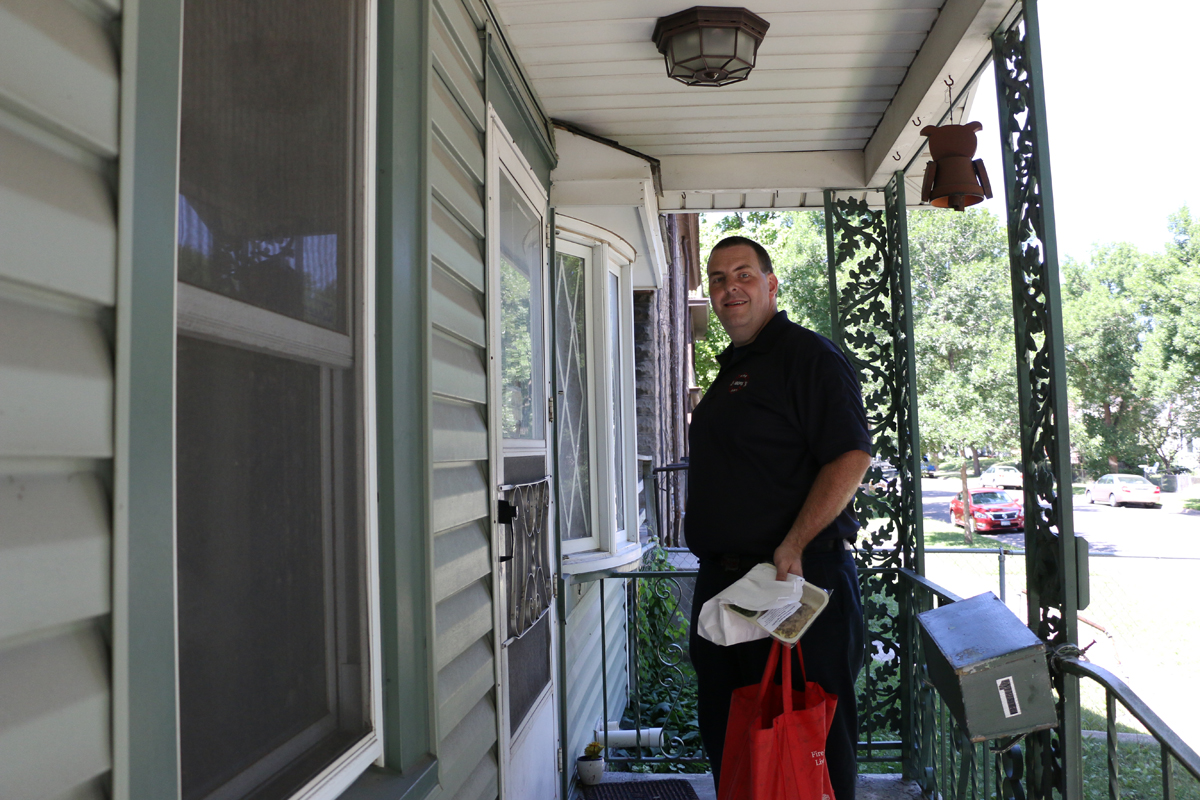 Meals on Wheels is designed so that volunteers can deliver meals to an entire route over a lunch break. Because Jeremy also provides safety surveys, he delivers to fewer homes and spends more time at each delivery site. He works his way through each route in Saint Paul, including routes based out of the Wilder Community Center for Aging.
One recent day, Jeremy drove to three sites in his fire education vehicle, a repurposed ambulance. No one was home at Jeremy's first stop. As Jeremy entered the second apartment building, he noted bicycles stored in the public hallway, which could pose a safety risk during a fire. After cheerfully announcing his arrival at the apartment unit, Jeremy handed the resident a warm meal and then checked and replaced her outdated smoke detector batteries.
At the final stop for the day, Jeremy discovered that an alarm had been mounted to the wall – but no batteries had ever been installed. He fixed the problem, installed an additional detector, and gave the resident a pole so that she could easily check smoke detectors mounted on the ceiling.
"That's why we come out and do this," Jeremy says. "We want residents to be safe."
Sharing Safety Information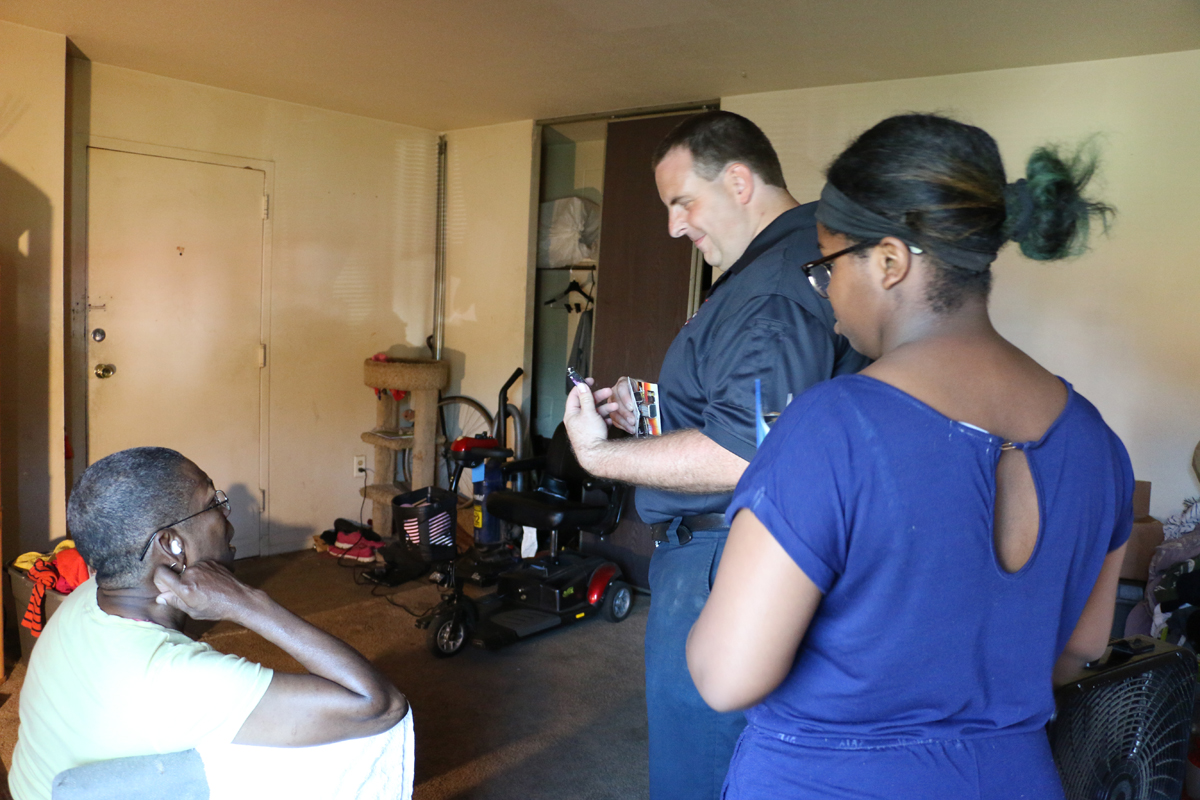 In a handful of visits, Jeremy has found safety issues that posed an immediate danger to the resident. Once, Jeremy noticed that a carbon monoxide alarm was detecting low levels of carbon monoxide in a resident's home. The amount wasn't enough to trigger the alarm, but enough to alert Jeremy of a potential problem. Xcel Energy came to check out the home and discovered a hole in the furnace duct work that allowed carbon monoxide to enter the house.
Most people who receive a safety visit from Jeremy are eager for information about fire prevention. "One of my favorites was on the Eastside," he says. When I arrived, I was met by the great grandchildren. They showed me into the home where I was introduced to four generations, close to 20 people waiting for me. All of them were there to learn about making their homes safer," he says.
Through these visits and conversations, Jeremy provides additional help by observing the well-being of Meals on Wheels recipients and sharing any concerns with Meals on Wheels staff. "He is extremely caring and passionate about his field, and it's obvious he shares a genuine concern for our clients' welfare," Miller says. "He makes sure that each individual has the support they need to thrive."
Sections
If it weren't for Jeremy, our clients would most likely not have access to this service and the convenience of coming directly into their home for a personalized safety inspection.
Christine Miller, Wilder Meals on Wheels Coordinator