Title
Facilitating Data-Informed Decisions: East Metro Pulse Data Parties
Body
The Saint Paul and Minnesota Foundations wanted to make a rich data resource about the residents of the east metro available to policymakers, funders and local leaders working to improve the lives of community members. Wilder Research partnered with the Foundations to develop and co-host a series of data parties to help attendees understand how to use data from East Metro Pulse, Vol. 2. to learn more about the people living in the east metro, the issues that are important to them, and their feelings about how their communities are meeting their needs.
What is East Metro Pulse?
The Saint Paul and Minnesota Foundations is Minnesota's largest community foundation and works with donors, nonprofits and community members to address some of the biggest issues facing Minnesota communities. In 2018, the Foundations contracted with Wilder Research to conduct the East Metro Pulse, Vol. 2, a survey of 1,950 residents in Dakota, Ramsey and Washington counties. The study is conducted every two years to learn more about East Metro residents' backgrounds, experiences, opinions, and needs in the areas of community connectedness, economic opportunity and security, education, health, housing, transportation, and racial narratives in the news media. The goal is to gather information that can be put into action to increase connectedness among neighbors and ensure a healthy community.
Making sense of the data, then putting it to use
To make the data accessible and useful, Wilder Research partnered with the Foundation to co-facilitate a series of data parties.
Data parties are an approach to participatory data analysis designed to demystify data and help people learn how to use it to make data-informed decisions. The East Metro Pulse data parties included fun and practical hands-on activities that help participants analyze and understand the data, and how they might use it to make decisions in their programs, staffing, strategic planning, policies, fundraising, and more. The data parties also provide some basic data best practices, such as only interpreting a difference between groups as a real and practical difference if there is a gap of 10 percentage points or more (anything less could be insignificant or not meaningful due to margins of error in the data).
The activities were designed to help people learn how to navigate and use the data in their work, such as:
Writing the statement of need section of a grant proposal

Doing data-informed strategic planning around a community's needs and preferences

Convincing a policy-maker or funder there is a need for a program or service

Telling the story of a community or demographic subgroup in a community

Other advocacy and planning work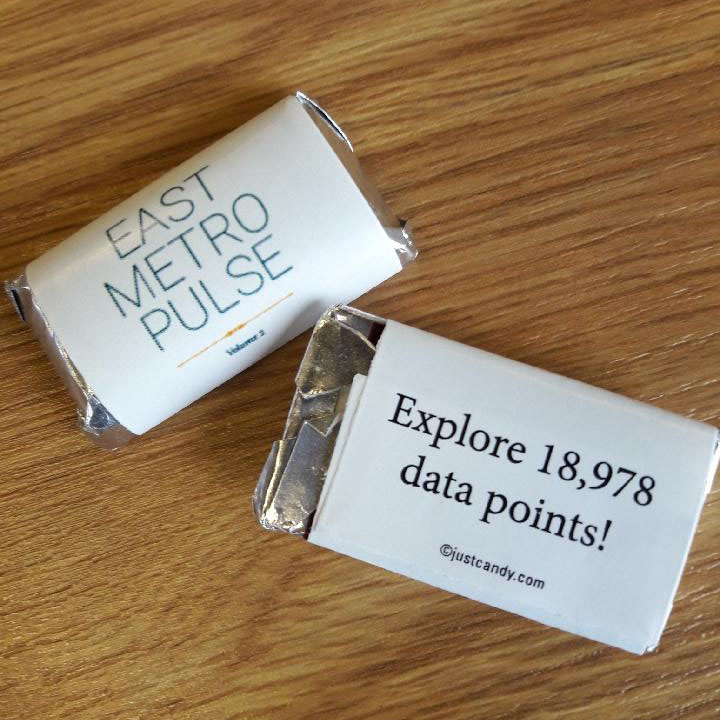 The data parties also included other elements to create a fun environment, with background music playing as attendees settle in and get to know each other, and a "swag bag" of data related goodies (including mini chocolate bars with a custom East Metro Pulse factoid on the wrapper).
"The data parties have been a great success. We've had over 80 attendees from nonprofit and philanthropic organizations, city and county government, and community organizations from across the East Metro," said Nadege Souvenir, Saint Paul and Minnesota Foundations vice president of operations and learning. "We've received great feedback about how helpful the data parties are in terms of really getting people to think and understand how to use the data for things they are working on."
Sections
The data party was a fun and engaging way to dig into the survey results and practice using them. I left with ideas for how I can use the data to bolster our organization's case for future investment in one of our highest priority projects.
Catherine Penkert, Director, Saint Paul Public Library