Title
The Community Equity Program provided Keisha Mitchell with hands-on experience during a historic Legislative session
Body
Minnesota legislators passed transformational legislation for abortion rights, paid family and medical leave, transgender rights protections, driver's licenses for undocumented residents, restoration of voting rights for people after release from prison, a $1 billion investment in affordable housing -- and much more.
Keisha Mitchell was there to see it happen.
In September 2022, Keisha was one of about 20 Minnesotans who joined the Community Equity Program, an immersive political leadership program that brings together Black, Indigenous, and/or People of Color (BIPOC) who want to get involved in Minnesota's legislative policy and fight for change in their communities. By the time participants graduated in May, they had taken a deep dive into Minnesota public policy against the backdrop of a historic Legislative session.
Sections
The Community Equity Program provides hands-on learning and real-life experience at the Capitol
"The support system that they have in place will ensure that you have the opportunity to do hands-on learning and experience something new," Keisha says. I cannot stress enough – what I thought I was going to get from this program is nothing compared to the experience that I actually received."
Alongside twice-monthly education sessions, Community Equity Program participants were paired with another policy or advocacy organization and spent time at the Capitol. Keisha testified before the Minnesota Senate and the Minnesota House of Representatives for legislation that supports BIPOC mothers and babies. She attended committee hearings, toured the Capitol and met with legislators.
She attended press conferences hosted by DFL legislators and Republican legislators. Keisha says that at the Republican press conference, organizers welcomed her participation even though she wasn't a member of the media. "I told them, 'I'm just a regular citizen of Apple Valley,' and they allowed me to ask a question. How awesome is that?"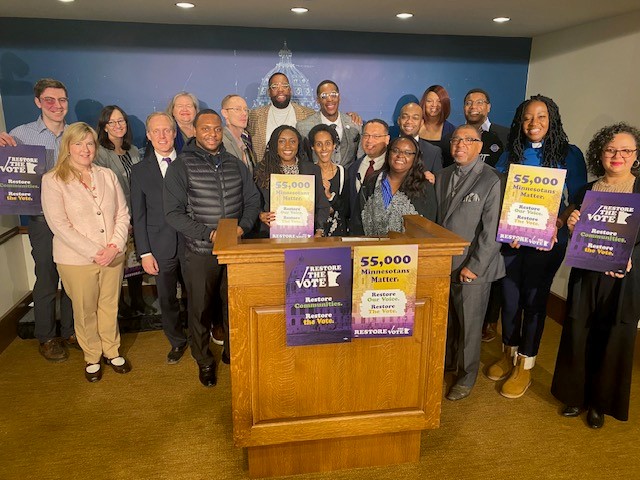 Keisha wanted to learn more about public policy to support her work with the African American Babies Coalition and Projects
Keisha is a program manager for the African American Babies Coalition and Projects at Wilder, which works with community stakeholders to address education and training around infant mortality and create positive change in the BIPOC community.
She joined the African American Babies Coalition and Projects in 2021 after a 15-year career in financial services. Her career had grown until she was a leader who managed a diverse team, but she felt called to use her skills to make a difference in her community. "What can I build that I can leave for someone else?" she says. "I have a passion to help African American women and children."
Through her involvement in the Zeta Phi Beta Sorority Inc., Keisha had experience with community service, but she was interested in complimenting her skills with public policy experience. "If you want to effect real change, you need to change it at the systems level," Keisha says. "We talk about this at AABC all the time."
Cohort members support each other's interests and priorities
Keisha was accepted into the Community Equity Program, where she connected with community members who came from different backgrounds and perspectives but were united in their desire to create change. The program is designed to help build a network of people with similar professional and personal interests who are experiencing the Capitol – traditionally populated primarily by white people – as BIPOC policy advocates and experts.
"I love how everyone was so vulnerable. We felt like people in the cohort really could get us," she says.
In one meeting, Keisha mentioned that she was passionate about reparations to Black people for slavery and other institutional racism. Four people sent her resources and information afterward.
"The Community Equity Programs is a safe place, whatever level you are, whatever your political experience," Keisha says. "This is a great group to understand and really learn the legislative process for the state of Minnesota.
The support system that they have in place will ensure that you have the opportunity to do hands-on learning and experience something new. I cannot stress enough – what I thought I was going to get from this program is nothing compared to the experience that I actually received."
Keisha Mitchell, Community Equity Program alumna