Title
Advocating for Indicators of Community Assets and Well-Being
Body
We know how many children live in poverty or are in foster care. We track this data because it provides information that policymakers and others can use to inform policy. But does this data, which enumerates facts about children through a deficit lens, provide a balanced accounting of the well-being of children?
What if we knew more about the number of children who demonstrate curiosity, ingenuity, honesty, and respect? Or who are proud of their cultural, ethnic, or social identity?
The deficit lens does not give us a clear vision of the future. Rather, it focuses on problems and adverse experiences—important issues, yes, but largely backward-looking data points that people from outside a community point to as something broken within families. Moreover, the decision to collect this information mostly derives from outside of communities. Accordingly, public indicator data on child, family, and community well-being from the census, state agencies, and other mainstream sources tend to measure and highlight the negative.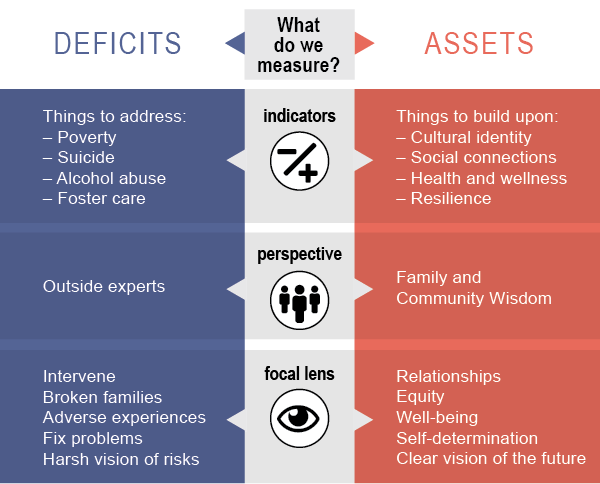 But if we had access to more strengths-based or asset indicators, we would be better equipped to:
Understand the diversity of community life and issues
Make informed decisions about policies and programs that affect communities from a community's perspective
Track progress toward sustainable and equitable communities
While our current policy discourse focuses on interventions to address deficits and problems, the dialogue around how to help all youth would benefit greatly by considering community assets and children's well-being.
Assets reorient the narrative
Where deficits are something to address, assets are something to build upon; they are investments, something forward-looking. Assets are something that strengthen reciprocal relationships and advance community self-determination. In many ways, they are a source of joy, solace, and strength.
One such asset is cultural and ancestral pride. Too often race and ancestry data has been used as a proxy for problems, trouble, and deficits. For example, before the late 20th century, simply being a Native American youth constituted a risk, at least to many majority-race researchers and policymakers. But by the 1990s that perception started to change. Native American and other indigenous community members began leveraging indigenous cultural identity as a bulwark against a litany of problems besetting their communities—suicide, alcohol abuse, and other negative outcomes. Instilling in children a pride of cultural heritage promoted positivity and confidence. In and of itself, cultural heritage was viewed as a vital asset.
In Minnesota, the Mni Ki Wakan: World Indigenous Peoples' Decade of Water Summit exemplifies an asset-based approach. It is an Indigenous-led, youth-centered initiative that is focused on protecting water and human rights. The leaders of Mni Ki Wakan, in partnership with Wilder Research, are working to establish the Indigenous Youth Research and Development Center (IYRDC) to promote youth development through participatory action research driven by Indigenous wisdom and knowledge.
New indicators of health, wellness, and transformation for the benefit of all could emerge.
The indicators of resilience
Recent research conducted by Wilder Research and the University of Minnesota points to resilience as an important source of assets. Children develop resilience over time, with early experiences—whether positive or negative—playing a central role in creating a foundation for individual development.
Positive social support, defined as a sense of belonging and emotional connectedness within a community or family, is an important protective factor for families with young children. Connectedness promotes well-being and positive social behavior and decreases isolation and related mental health concerns. It also contributes to a family's social network and safety net, which can provide practical assistance with such things as child care, transportation, or money when needed.1-3
A sense of security in relationships is crucial in early childhood and is derived from relationships with primary caregivers. When children have a healthy, or "secure," attachment to a caregiver, it generally implies that the relationship provides "a haven of safety, a source of reassurance when the child is distressed, and a base for exploration."1 Responsive relationships with adult caregivers promote healthy brain development and buffer or protect young children from challenging experiences that activate internal stress responses.2-3
Consistent father involvement has also been found to be a protective factor, particularly for children in impoverished environments, and is associated with socioemotional and cognitive benefits, such as reduced aggression, improved peer relationships, and the capacity to cope with novelty and challenge.4
Each of these indicators of resilience—positive social support, security in relationships, and consistent father involvement—lacks representative data. But identifying potential measures for them, and for other assets, is possible. In fact, if we wish to elevate our policy discourse, it is necessary.
References
Sroufe, L. A., Egeland, B., Carlson, E., & Collins, W.A. (2005). Placing early attachment experiences in developmental context. In K. E. Grossman, K. Grossman, & E. Waters (Eds.), Attachment from infancy to adulthood: The major longitudinal studies (pp. 47-80). New York: The Guilford Press.
Center on the Developing Child at Harvard University. (2017). Three principles to improve outcomes for children and families. Retrieved from http://www.developingchild.harvard.edu.
MacArthur Research Network on Socioeconomic Status and Health. (2008). Support and social conflict: Section one –social support. Retrieved from https://www.macses.ucsf.edu/research/psychosocial/socsupp.php.
Cabrera, N., & Tamis-LeMonda, C. S. (2013). Handbook of father involvement: Multidisciplinary perspectives (2nd Ed.). New York: Routledge, Taylor & Francis Group.
This post originally appeared on Minnesota Compass.
Richard Chase was a consulting scientist at Wilder Research for more than 37 years. His studies covered early childhood policies, services and indicators and the effectiveness of school readiness, prevention and capacity-building programs for children, youth and families.