Title
Support Wilder's Campaign for Families
Building a stronger Saint Paul, one family at a time.
Body
Wilder is on a mission to transform the support families need to be stable, healthy and strong.
We are listening to the people who come through our doors. We trust them to tell us what they need. Together, we are exploring options, accelerating solutions, and helping people be agents of their own change. Our distinctive approach means we look for ways to help an entire family however people define what their family means to them. That approach ensures no one falls through the cracks.
When families struggle, our whole community suffers. And when families thrive, our whole community benefits. That is why our whole-family approach is essential for long-lasting, city-wide change. At Wilder, families get what they need — in one place. This is the Wilder difference. And, your support of families can help us reach our goal of $17 million by June 30, 2022!
We invite you to join us online for our One Family at a Time conversations. Click on the event links below to learn more and register:
Section
You're one step away from joining our efforts to build a stronger Saint Paul, one family at a time!
Courageous change takes all of us, and it takes investment. Please join Wilder as we complete this campaign to transform the support families need to be stable, healthy and strong.
Why we must build a stronger Saint Paul
39% of people live in poverty in Saint Paul, Minnesota.
That's 2 of every 5 residents in the city.
An estimated 1 in 5 young people need support for their mental health, and people of color are much less likely to have access to therapy and mental health care.
34% are cost-burdened households who pay more than a third of their income for a house in Saint Paul.
Here's how we plan to build a stronger Saint Paul, one family at a time:
Stabilize Thousands of Families
By providing easier access to services and support for the heavy financial burden of housing, we can stabilize families, reaching them before they're in crisis and caught in a web of expensive interventions. With your support we will address the complex needs of families in the areas of housing, mental health and wealth building, serving 10,000 families over five years and helping 1,500 families stay housed.
Goal: $9 million
Whole-family approach helps families with housing assistance alongside mental health supports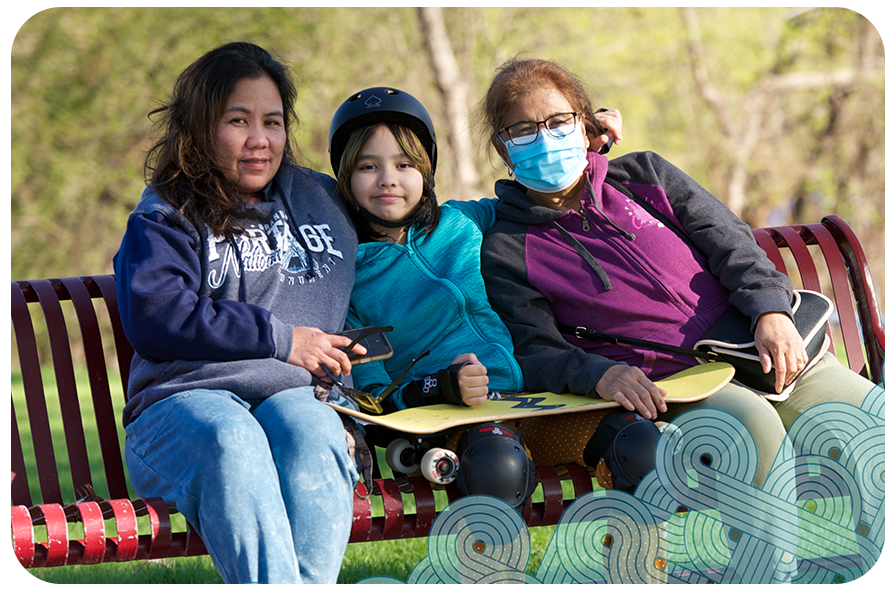 Stephanie, a mother of two elementary-aged daughters, uses services through Wilder's Community Mental Health and Wellness to support the well-being of her family. When the COVID-19 pandemic started, Stephanie's hours were cut as schools moved to online learning, leaving her in need of support for rent, work and child care, along with making sure her family's mental health needs were met.
As part of Wilder's whole-family approach to helping families thrive, the mental health team referred Stephanie to Direct Housing Assistance. Wilder's housing team helped Stephanie by driving to her home to pick up or drop off documents as needed. Stephanie told staff she was grateful and thanked the team for being accessible in an extraordinarily difficult time.
Improve our children's mental health and well-being
Wilder's solution is simple and effective: provide high-quality, culturally specific mental health services directly within schools to serve the one in five children who suffers from a mental health issue. With your support, we will expand mental health services to serve children in at least 50% of Saint Paul Public Schools, helping nearly 2,000 students improve their ability to learn and dozens of classrooms become calmer.
Goal: $4 Million
With healing, DeAnthoney takes steps to be the person he wants to be
DeAnthoney, a young photographer who aspires to create a "multi-visual empire," didn't feel like he fit in when he enrolled at the High School for Recording Arts in Saint Paul. He was frequently absent from school, and he had experienced homelessness. DeAnthoney started meeting with Evette, a Wilder school-based mental health therapist who works with students of African descent at the school. 
Build wealth through life-changing connections
Capital, connections and opportunities make success possible, yet these resources are often out of reach for people living in undervalued and underinvested communities.

This campaign will help more families design

a pathway toward economic and social mobility

, form important connections, and develop an indelible sense of ownership and agency for their futures. With your support, we can expand UpTogether (formerly Family Independence Initiative) and create special grant opportunities to provide 750 families with this novel approach to 

accelerating the initiative people take to improve their lives.
Goal: $4 Million
Mary says, "I have learned that I can do just about anything that I put my mind to."
Mary used UpTogether, formerly known as Family Independence Initiative, as she overcame domestic violence. Through her resilience, determination and her participation, Mary achieved her goals, such as buying a reliable car to take her children to medical appointments. As her family grew to four children, Mary moved from an apartment to a four-bedroom home.
To build a stronger Saint Paul, we must make it easier for families to get this transformative support.
Whether it comes in the form of stable housing, mental health services, or wealth building opportunities. Wilder is uniquely positioned to do this work, with a culturally diverse staff who reflect the people we serve, an expert research team, and deep community roots.
Join us in support of Wilder's Campaign for Families and help raise $17 million to:
Stabilize thousands of families: 

$9 million




Improve our children's mental health and well-being: 

$4 million




Build wealth through life-changing connections: 

$4 million 
Thank you for supporting Wilder's Campaign for Families!
♦ employee | *deceased
$2 Million+
Fred C. and Katherine B. Andersen Foundation
Margaret A. Cargill Philanthropies
$1 Million+
Richard M. Schulze Family Foundation
$500,000+
Anonymous
F. R. Bigelow Foundation
The Katherine B. Andersen Fund of The Saint Paul Foundation
The Saint Paul Foundation
Thrivent Foundation
U.S. Bancorp Foundation
$250,000+
Andersen Corporate Foundation
Bentson Foundation
The Dietz Family Fund of The Saint Paul Foundation
Christine and Patrick Donovan Family Fund of The Saint Paul Foundation
Hardenbergh Foundation
Hugh J. Andersen Foundation
Securian Financial Foundation
$200,000+
Mortenson Family Foundation
Pohlad Family Foundation
$100,000+
Anonymous
Bremer Financial Corporation
Donald and Patricia Garofalo
Mardag Foundation
Morning Foundation
Otto Bremer Trust
Kathryn L. Schleich
Andrea and Tim Walsh
$75,000+
Brad and Sue Hewitt DAF of InFaith Community Foundation
The Chris and Anne Hilger Fund of The Saint Paul Foundation
Mairs & Power
Ken and Nina* Rothchild
Mark and Jodie Zesbaugh
$50,000+
3Mgives
Julie Brunner and Dale Ulrich
The John and Ruth Huss Fund of The Saint Paul Foundation
Jay and Gail Lund
Eric Nicholson and Anna Waters
William and Susan Sands
Carolyn and Paul* Verret
Ann L. Wynia
$25,000+
Ciresi Walburn Foundation for Children
Alex and Judy Cirillo
Kevin and Catherine Earley
Robyn L. Hansen
The McKnight Foundation
Jan Shimanski and Robert Mills
Liz and Tim Welsh
$20,000+
The Edward J. Phillips Family Foundation
MayKao Y. Hang and Lao Lu Hang
Elizabeth M. Kiernat
$10,000+
Allina Health
Armando and Angela Camacho ♦
Ruth and Leroy Fingerson
Phyllis Rawls Goff
Fred and Archie Harris
William Harrison
KCB Corporation DBA McDonald's
Michelle M. Morehouse ♦
Wheeler Chutich Charitable Account of Raymond James
$5,000+
Ron Bongard
Judy and Edward Kishel
Daniel and Constance Kunin
The Philemon C. and Barbara Blanch Roy, Jr. Fund of The Saint Paul Foundation
Conradine Sanborn and Chris Colantti
$2,500+
Dr. Rahul Koranne and James Watchke-Koranne
George and Diane Power
$1,000+
Amelia Colwell ♦
Ellen Cleary ♦
John R. Farrish and Sara Donovan
Tom and Leslie Kottke
$500+
Nona and Vanwright Ferguson ♦
Jennie and John Hawkins ♦
Dr. Charles P. Morgan and Deborah J. Morgan
Anne and Jeff Rodenberg ♦
Carolyn Sorensen
Kerry Walsh and Tom Meyer ♦
Dr. Pahoua Yang and James Song ♦
$1-$500
Anonymous (6)
Edith Gozali-Lee ♦
Allison and Alex Liuzzi ♦
Jamila Pickett ♦
Greg Reynolds ♦
Samreen and Sameer Saadi ♦
Candi Shreve ♦
Ann Somers ♦
Craig Sweet ♦
Tony Thao
Tsua Xiong ♦
Mai Choo Yang ♦